New York: NORML Founder Keith Stroup To Keynote At Cannabis World Congress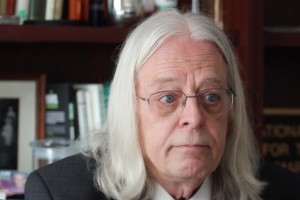 Industry Pioneer & Anti-Prohibition Activist Joins Strong Speaker & Educational Lineup at Cannabis Business Trade Show & Conference
By Steve Elliott
Hemp News
"Why We're Finally Winning After All These Years" will be the keynote address given by Keith Stroup, founder of NORML, at the Cannabis World Congress & Business Exposition (CWCBExpo), June 15-17, at the Javits Center in New York. Stroup joins Leonard Marshall, Super Bowl Champion and concussion prevention advocate, as a headlining Keynote Speaker.
Stroup's address will take place on Thursday, June 16, at 1:50 p.m. CWCBExpo is a business event for the for the legalized cannabis marketplace.
Stroup is a Washington, DC-based public-interest attorney who founded NORML in 1970, served as its executive director for 20 years and currently serves as NORML's legal counsel and a member of the board of directors. Fortune magazine recently named Stroup one of the most powerful people in America's marijuana industry.
"With more and more states legalizing the responsible use of marijuana, including two East Coast states expected to adopt full legalization this November, I am excited to speak to the CWCBExpo NY audience about the history of our anti-prohibition efforts and the current groundswell of support for ending prohibition and removing the stigma of marijuana as a Schedule I drug," Stroup said.
NORML is a public interest lobby based in Washington, DC, with more than 130 state and local affiliates, as well as affiliates in more than a dozen foreign countries. The organization supports the elimination of all penalties for the responsible use of marijuana by adults, and the establishment of a legally regulated market where consumers can buy their marijuana in a safe and secure setting. It has been largely supportive of safe access for medicinal cannabis patients, with the exception of a few disastrous mis-steps such as the Washington State chapter of NORML being part of the pro I-502 / SB 5052 lobbying in the Washington Legislature which effectively ended the medical marijuana program in that state (Stroup shamed Washington medical marijuana activists for resisting these changes).
Stroup obtained his undergraduate degree in political science from the University of Illinois in 1965, and in 1968 he graduated from Georgetown Law School in Washington, DC. Following two years as staff counsel for the National Commission on Product Safety, he founded NORML.
"Having industry pioneer Keith Stroup as a Keynote at our New York event underscores our mission to create a forum which promotes responsible business practices for this burgeoning but scrutinized industry and move it forward in a positive and accepting way," said Christine Ianuzzi, managing partner of Leading Edge Expositions, LLC and Show Director of CWCBExpo.
In addition to the Stroup and Marshall keynotes, CWCBExpo NY will also present thought-leadership panels on "CTE, Concussions, and CBD;" "Hemp Made in America," and more than 70 sessions with vetted industry experts and innovators in the CWCBExpo NY conference (June 16-17). Sessions tracks focused on Creating Your Business, Running Your Business, High Finance, Opportunities, and Trends in High Growth Areas. Add-on Workshops providing in-depth information on starting a business and operations, careers, and capital investment will take place on June 15th & 18th.
Industry businesses, experts, and advocacy groups are participating in CWCBExpo NY including sponsors Brain Unity Trust, Coalition for Access Now, Realm of Caring, CW Botanicals, Tress Capital, Elixinol, and CannaKorp and product and services companies showcasing everything from cultivation to sales including greenhouses, grow lights, extractors, containments, business management software, vapes and more.
To learn more about CWCBExpo NY and to register go to:
www.cwcbexpo.com.
Photo of Keith Stroup: Karen Mawdsley / News 21