Oregon: Wednesday, May 11 Is Last Day Voters Can Mail Their Ballots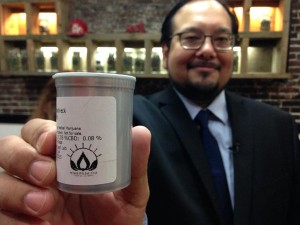 Today, Wednesday, May 11 is the last day Oregon voters can mail their ballots and expect them to be received by Election Day. After today, voters will need to drop their ballots off at a drop box location.
Anthony Johnson, chief petitioner for Measure 91, the ballot initiative responsible for legalizing recreational marijuana in Oregon, is encouraging voters to take part in the democratic process, and he's made three specific endorsements.
"We have made great progress in Oregon and we can make even more by electing candidates that understand the need to implement sensible cannabis regulations," Johnson said on Wednesday. "We have made a couple of voting recommendations, but the most important thing is that you vote.
"Cannabis law reform, and candidates that support reasonable marijuana laws, do better when turnout is high, so let's continue to lead the nation, not just with our marijuana laws, but also with our voter participation," Johnson said.
"In the Oregon Secretary of State Democratic primary, we urge a vote for Brad Avakian, who has been a long-time ally of the marijuana law reform movement," Johnson said. "As Labor Commissioner, he fought for a medical marijuana patient who was fired for using cannabis medicinally. Brad has called for same-day voter registration and an audit of Oregon's marijuana programs to ensure that the regulatory agencies are fulfilling the will of the voters.
"In the Portland mayoral race, we urge a vote for Ted Wheeler," Johnson said. "As Oregon State Treasurer, Ted supported a reasonable fiscal impact statement for Measure 91 when other state officials were inclined to severely underestimate the revenue regulated marijuana sales would bring to the state.
"Now that he is running for mayor of Portland, Ted has reached out to advocates to learn more and to help ensure that our great city implements regulations that are reasonable and help ensure that mom-and-pops can thrive and that patients and consumers have safe access," Johnson said.
"The presidential race demonstrates how far the cannabis law reform movement has come as all three of the major candidates remaining have at least stated their support of allowing states to implement their own marijuana laws," Johnson said. "Democrat Bernie Sanders has gone the furthest, supporting an end to federal cannabis prohibition, a policy that would end federal interference and end tax and banking woes facing the cannabis industry."
"No matter who you vote for this election, please just remember to get those ballots in," Johnson said. "Regardless of who is elected, we'll be working on some important goals, including: improving the medical marijuana program and ensuring that fees ultimately benefit the medical community; reducing marijuana penalties even further until no one is ever in jail for cannabis; and implementing a low-income patient program so every patient has safe access to medicine."
Photo of Anthony Johnson: Bob Heye/Twitter