Colorado: Denver Police Issue 18 Citations For Public Marijuana Consumption At Pot Rally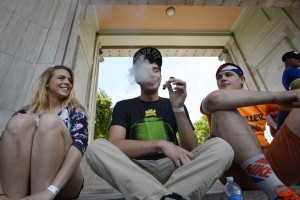 By Steve Elliott
Hemp News
Denver Police on Saturday issued 18 citations for public marijuana consumption at the rescheduled 420 Rally in Civic Center Park downtown, according to police spokesman Doug Schepman.
While that's bad enough, at least it's noticeably less than the 60 citations handed out on April 20, when thousands gathered in Civic Center to celebrate Cannabis Day.
Recreational use of marijuana was legalized in Colorado when voters approved Amendment 64 in 2012, but smoking weed in public remains illegal, reports Katy Canada at The Denver Post.
Last year's rally -- which lasted for two days -- resulted in more than 150 police citations.
On Saturday, police also issued three citations for driving with a suspended license, and two for flying drones in a public park.
The rally ran from 10 a.m. to 10 p.m., and brought thousands of cannabis advocates to downtown Denver. Organizers had been forced to postpone the original event, scheduled for April 1t6, because of snow.
Photo: From left, Mariah Elliott, Charlie Freimiller and Brady Freimiller drove 16 hours from Indiana to partake in the Denver 420 Rally held on May 21, 2016 at Civic Center Park. Kira Horvath / The Denver Post