U.S.: Federal Data Shows Marijuana Trafficking Falls Following State Legalization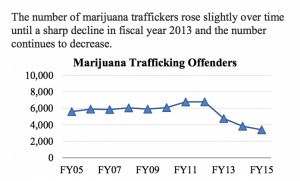 By Steve Elliott
Hemp News
Federal marijuana prosecutions dropped significantly after the passage of statewide laws legalizing and regulating the production and retail sale of cannabis to adults, according to data provided by the United States Sentencing Commission.
According to the new report, the number of cannabis trafficking offenders prosecuted federally fell dramatically after 2012, declining from more than 6,000 a year to fewer than 4,000 in 2015, reports Tom Angell at Marijuana.com.
"The number of marijuana traffickers rose slightly over time until a sharp decline in fiscal year 2013 and the number continues to decrease," according to the report.
The period of decline matches the passage and enactment of marijuana legalization measures in states including Colorado, Oregon and Washington.
Those convicted of marijuana trafficking serve an average of 29 months in prison, according to federal data.
A copy of the USSC report is available here for downloading:
https://lists.norml.org/list/mail.cgi/r/chapters/697347662961/dale/canor...