U.S.: Keurig-Like Device For Marijuana Set To Hit Market Next Year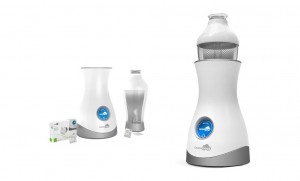 By Steve Elliott
Hemp News
The mainstreaming of marijuana continues: Now, a Keurig-like device is set to hit the market early next year, and a former Keurig executive is one of the co-founders of the company which will manufacture them.
There are plenty of nascent businesses springing up to serve consumers who now have access to legal cannabis. Among the offerings are tools and gadgets to go along with the weed -- and because American consumers seem to love things in "pods," there's a weed vaporizer in development right now that's being called the Keurig for marijuana, reports Mary Beth Quirk at Consumerist.
CannaKorp is the company behind the CannaCloud, the Keurig-like machine for pot, reports Curt Woodward at The Boston Globe. The device heats up the weed enough so that it releases vapor, but doesn't actually incinerate it. Consumers then inhale the vapor and get high.
Ex-Keurig executive Dave Manly, along with Michael Bourque, co-founded CannaKorp. Bourque first tried smoking a joint in 2004, and he hated it. Using his product development background, he took apart popular weed vaporizers to see how they worked; his plan, all along, was to create a device equally handy for cannabis as the Keurig is for coffee.
Each "CannaCup" is filled with the consumers choice from various strains of sativa, indica, hybrid, and CBD-only weed, according to the company's website. "Pods are pre-ground cannabis flower that are sealed to lock in flavor, aroma and freshness that ensures a great experience every time," the site assures us.
We still don't know if those pods are either recyclable or biodegradable; the term "unnecessary packaging" immediately springs to mind. Also unknown as yet is if there will be a reusable, fill-your-own-pod alternative the the pre-filled ones. Throwing out pods after every use could worry enviro-friendly consumers.