Arizona: Cannabis Retail Designer Receives 3rd National Recognition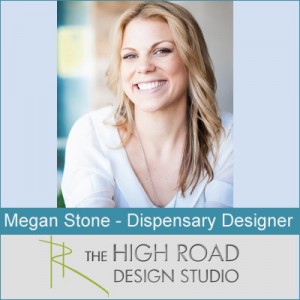 The awards keep coming for cannabis retail designer Megan Stone of The High Road Design Studio. The young entrepreneur is lighting up the billion-dollar cannabis industry by creating award winning dispensary environments catering to the modern consumer.
This month Stone was announced as one of the Top 40 Under 40 by design:retail magazine for her luxury dispensary designs. Stone was selected for the national recognition from more than 140 nominees for the award, one of three major awards recognizing the Tempe, Arizona based retail designer in 2016. Winners for the retail magazine award were honored in New York City in May.
"I design the way I do because, for many people, cannabis has been a miraculous plant. Buying it should be an experience that reflects that," Stone said.
Stone's revolutionary designs have established a new cannabis aesthetic transcending long-standing clichés of tie-dye tapestries and peace-sign motifs. Along with the Top 40 Under 40 Award, Stone was named a finalist for the prestigious 23rd Annual A.R.E. (Association for Retail Environments) Design Awards Competition alongside CHANEL, Target and Nordstrom, and was named Technical Professional Marketer of the Year by SMPS (Society for Marketing Professional Services) Arizona.
As owner and founder of the first firm to specialize in dispensary design, Stone is a game-changer who has created environments and identities for marijuana businesses in 11 states. From California to New Hampshire, Stone's nuanced dispensary designs have garnered attention for their streamlined, modern interiors, inviting layouts, and upscale facades.
Stone's expertise is visibly tangible in her ability to succeed on both a small and large scale. Her most recent work for The Healing Center in San Diego involved remodeling a former office suite. Stone drastically converted the 450 square-foot space into a chic, polished retail environment. Luxe fixtures, textural suede accents, and streamlined glass shelving create a professional ambience while original artwork adds a personal touch.
At Park Range Recreationals in Colorado, Stone met similar space challenges in the 500 square-foot project. Stone instilled a sense of openness by highlighting the 14-foot ceilings with a custom, orange plaid design that playfully pays tribute to the area's hunting and outdoor scene. She also further perpetuated this airiness, with concealed door detailing and seamless, wood-cladded paneling.
At TruMed in Phoenix, Stone created an award winning highly specialized concentrates bar to stylishly showcase an expanded line of cannabis products and accessories for patients. Within weeks of its completion, TruMed recouped on their investment in the custom concentrates bar proving that design is a powerful tool when executed correctly.
Currently, Stone is working on an expansive 3,600 square-foot dispensary in Scottsdale, Arizona, set for completion in fall 2016, as well as a multi-location retail brand concept for an East Coast-based medical dispensary license holder.
With the cannabis market, forecasted by the ArcView Group to reach $6.7 billion in sales this year, thoughtful design and branding is becoming more and more essential to success. Stone is at the forefront of this movement with The High Road Design Studio.
Graphic: CannaInsider