Illinois: Medical Marijuana Advocates Cheer Governor's About-Face On Expanding Program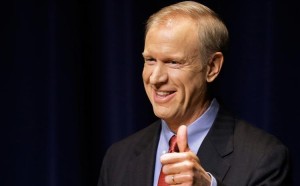 By Steve Elliott
Hemp News
Medical marijuana advocates are applauding Illinois Governor Bruce Rauner's about-face on expanding the state's medicinal cannabis pilot program, saying it will allow time to show the program is working and help more suffering patients.
Democratic Rep. Lou Lang on Friday announced an agreement with the Republican governor to extend the state's four-year medical marijuana pilot program to 2020, reports the Associated Press.
The program had been set to expire in 2018, but advocates said more time is needed because medicinal cannabis sales only began in November 2015.
The agreement, which still must be approved by the Illinois Legislature, adds post-traumatic stress disorder (PTSD) and terminal illness to the qualifying conditions for medical marijuana.
Governor Rauner had previously balked at adding any conditions, despite recommendations from the Illinois Medical Cannabis Advisory Board.
Chairwoman Dr. Leslie Mendoza Temple of the board said she's "thrilled" that more patients will now benefit from the program.
Photo of Gov. Bruce Rauner: Chicago Now