Louisiana: Fishermen Find Brick of Marijuana On Beach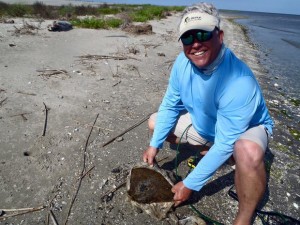 By Steve Elliott
Hemp News
Capt. Theophile Bourgeois and his clients on Friday discovered a brick of cannabis while walking along an island beach in the Chandeleur chain off the Louisiana coast.
"It was half in the sand, right up on then beach," Bourgeois said, reports Todd Masson at The Times-Picayune. "My clients were like, 'What do you think it is?' I said, 'I'd bet my left nut what that is.' It was dark; I knew it wasn't cocaine. I said, 'That's weed.'"
They used to be called "square groupers" -- the stray bales of marijuana that occasionally washed up on the Gulf Coast, by-products of a thriving black market that brought weed into the U.S. via the Caribbean.
The anglers cut open the brick to check, and Capt. Bourgeois' suspicions were confirmed. "It was solid seeds and stems," he said. "It stunk. It was skunk weed."
The cannabis was very compressed, according to Bourgeois, and he estimated the weight of the brick as between 15 and 20 pounds. It appeared to have been lost at sea for awhile. "It was old and waterlogged," Bourgeois said.
"It was on the bay side, which meant it made its way through current and came around," he said. "It looked pretty damned old."
Bourgeois called the authorities, giving them the coordinates of the marijuana brick. They asked if there were any indications on the package about its ownership.
"There was no labeling on it like, 'Uncle Joe's pot,' or anything like that," Bourgeois said.
Bourgeois declined to reveal the exact island he was on when he made his stony discovery.
"You'd have jet skis, inner tubes, hang-gliders, everything out there looking for the bag of weed," he said.
Photo: One of Capt. Theophile Bourgeois' clients poses with a brick of marijuana the fishermen found in the Chandeleur Island chain off the Louisiana coast.