Washington: Willie Nelson Partners With Spokane Marijuana Grower/Processor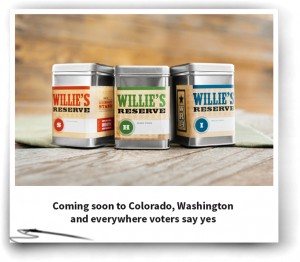 By Steve Elliott
Hemp News
A Spokane marijuana processor has partnered with country music legend and cannabis connoisseur Willie Nelson on his new company, Willie's Reserve.
Willie's Reserve is working with growers and processors in Washington and Colorado, including Growing Like A Weed, an I-502 cannabis producer/processor located in Spokane's Mountain Dome Winery building, to grow product to be packaged under the Willie's Reserve brand, reports Azaria Podplesky at Inlander.
"Willie and his family and a few close friends, developed the brand with emphasis on environmental and social issues, to lend support to the gradual end to marijuana prohibition across America," announced a 2015 press release from Willie's Reserve.
Master gardener Fred Renteria of Growing Like a Weed (GLW) said a Willie's Reserve represented contacted him a couple of months back, shortly after GLW switched from the medical marijuana sphere to the recreational I-502 market.
The representative liked GLW's organic approach to growing.
"We take the approach that it doesn't have to be in a bottle or be a pesticide to get you through," Renteria said. "A lot of people get so far away from gardening that they forget what they're doing. That's what we're doing, gardening, so it should be healthy dirt, healthy plants. It shows the best product."
Willie's Reserve is planning to buy GLW's current crop of Silvertip in bulk, which it will divide into flower, ready-rolls, edibles and oil.
It won't be long until Willie's Reserve products will be available for sale in Washington and colorado. The brand plans to make its first purchase from GLW later this month, followed by a soft opening later in the summer, according to Renteria.
"Rather than hiding behind Willie, the product can actually stand up side by side," Renteria said. "If more people took the approach that they're taking — taking their time to get in the industry and doing the right steps — those are the businesses that are going to succeed."