U.S.: National Poll Shows Majority Supports Legalizing Marijuana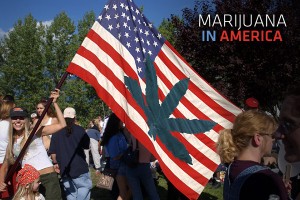 By Steve Elliott
Hemp News
A majority of American registered voters nationwide support the legalization of marijuana, according to the results of a new Quinnipiac Poll released on Monday.
Just more than half -- 54 percent -- said cannabis use should be made legal across the United States, while 41 percent said it should not, reports Nick Gass at Politico.
The results showed partisan polarization, with Democrats favoring legalizing 65 percent to 30 percent, and Republicans opposing legalization 62 percent to 36 percent. Independent voters backed legalization 61 percent to 36 percent, as did men (60 percent to 37 percent) and women, but just by 48 percent to 46 percent, within the margin of error.
Possession of cannabis is already legal in Alaska, Colorado, Oregon, and Washington, along with the District of Columbia, with a couple of dozen other states having decriminalized the herb.
Majorities of voters younger than 65 said they would support legalization, while 57 percent of those 65 and older said they would oppose it.
Medicinal cannabis had even greater support. Overall, 89 percent said they would be in favor of medical marijuana, with just 9 percent opposed. Almost as many, 87 percent, said they would favor doctors for the Department of Veterans Affairs being allowed to prescribe medicinal cannabis in states where it is legal to veterans with post-traumatic stress disorder. Just nine percent opposed that plan, as well.
"If you serve our country and suffer for it, you deserve every health remedy available, including medical marijuana in pill form. That is the full-throated recommendation of Americans across the demographic spectrum, including voters in military households," said Tim Malloy, assistant director of Quinnipiac University Poll, reports CTPost.
"Post-traumatic stress disorder is debilitating and life-threatening," Malloy said. "The response from voters should take political considerations out of the debate and allow doctors to do what's best for veterans. The fact that a majority of American voters favors legalizing marijuana in general shows how attitudes about the drug have changed."
"This is a mainstream issue that politicians are finally starting to embrace instead of run away from, and that's only going to intensify after voters more than double the number of states with legal marijuana at the ballot box this November," said Tom Angell, chairman of Marijuana Majority, reports Jesse Byrnes at The Hill.
Quinnipiac conducted the poll via cellphones and landlines from May 24-30, surveying 1,561 registered voters with a margin of error of plus or minus 2.5 percentage points.