Oregon: Marijuana Business Bans Could Cost Counties Millions Of Dollars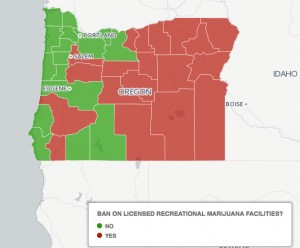 By Steve Elliott
Hemp News
County bans on licensed recreational marijuana businesses in Oregon could result in millions of dollars of lost economic activity, according to a new report.
Marion County alone could lose $110 million in economic activity in 2016 as business goes elsewhere because of its nonsensical ban, said Beau Whitney, an economist and vice president of government and compliance at Toronto-based Golden Leaf Holdings, reports Gordon Friedman at the Statesman Journal.
Nineteen Oregon counties and 86 Oregon cities have banned marijuana producers, processors, wholesalers and retailers entirely.
Oregon citizens voted at the ballot box to legalize marijuana via Measure 91 in 2014. State legislators allowed local municipalities to ban cannabis businesses if their voters opposed legalization.
In counties with less than 55 percent rejecting legal sales -- like Marion County -- the bans are only temporary and must be put to the voters. In counties which rejected legalization by more than 55 percent, local governments can ban cannabis businesses outright.
Whitney's analysis came after Golden Leaf Holdings was unable to expand into Marion County because of the ban. The company owns property in Aurora, where it announced it had planned to build an "extraction and refinement center." Plans of expansion are now on hold until November, when the ban could be lifted by county voters at the ballot box.
The company had wanted to employ 80 to 100 people at the Aurora site, according to Whitney, which would have meant around $4.5 million in annual payroll. It also planned $4 million in facilities upgrades.
In all, the ripple effect of the Golden Leaf's spending could have amounted to a $34 million boost in Marion County's economy, according to the report.
Whitney said his numbers are conservative. He presented his findings to the Marion County Commissioners in February, hoping they'd repeal the moratorium. They did nothing.
Marion County enacted its marijuana moratorium in September 2015, though the city of Salem still allows cannabis businesses. County residents will have a chance to vote on the ban in November.
Counties with pot moratoriums don't reap tax revenue from cannabis sales, which, ironically, partially fund law enforcement. They also lose out on economic investment and new jobs.
Marion County Commissioner Kevin Cameron displayed his cluelessness (or maybe lack of caring) when asked about Whitney's estimate of economic losses. "He may be right about that. I don't know," Cameron said.
"Beau can supply all the numbers he wants," County Commissioner Cameron blustered. "I'm not going to sit here and talk about whether the moratorium is impacting Marion County because I don't have those numbers." He added that even if the ban affects job growth, "that's okay with me."
He added that enough marijuana is being grown already.