Ohio: Governor Kasich Signs Medical Marijuana Law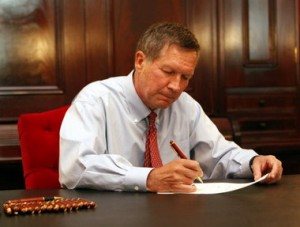 Ohio Governor John Kasich on Wednesday signed House Bill 523 into law, making Ohio the 25th medical marijuana state.
Kasisch's communications team announced the signing without any comment, simply including in a list of other bills the governor also signed on Wednesday, reports Jackie Borchardt of Cleveland.com.
"This is a joyous day for the thousands of Ohioans who will finally be able to safely access much-needed medicine," said Ohioans for Medical Marijuana spokesman Aaron Marshall. "As we continue this movement to bring medical marijuana to all Buckeyes who need it, we will remember today as a huge step forward."
The new law goes into effect 90 days after the bill is officially filed with the Ohio Secretary of State, making medical marijuana legal sometime in early September. Patients will then have an "affirmative defense" against prosecution for marijuana possession charges if they have written authorization from their doctor to use marijuana in a form allowed under the law.
It could be a year or more until Ohioans can actually walk into a storefront dispensary and buy medical marijuana. The program must be operational within two years, according to the law, but lawmakers said it will probably be up and running sooner than that.
People with the following medical conditions will be able to use medical marijuana under the law: HIV/AIDS, amyotrophic lateral sclerosis (ALS), Alzheimer's disease, cancer, chronic traumatic encephalopathy (CTE), Crohn's disease, epilepsy or another seizure disorder, fibromyalgia, glaucoma, hepatitis C, inflammatory bowel disease, multiple sclerosis, pain that is either chronic and severe or intractable, Parkinson's disease, post-traumatic stress disorder, sickle cell anemia, spinal cord disease or injury, Tourette's syndrome, traumatic brain injury and ulcerative colitis.
The program will be regulated by the Ohio State Pharmacy Board, State Medical Board and Department of Commerce. A 14-member advisory board including pro-medical marijuana members would recommend rules to the three regulatory agencies.
"Congratulations to all the patients and advocates whose intense advocacy efforts helped to make this day into a reality," Marshall said. "We still have much work ahead of us to improve this imperfect law while holding state lawmakers and regulators to the promises contained in HB 523, but we are proud of the role that we played in getting this law enacted.
"We plan on working to better this program, utilizing our amendment as a roadmap for those improvements," Marshall said.
Photo of Gov. John Kasich: Terry Gilliam / Associated Press