Nevada: Largest Paper Used To Support Pot Legalization -- Then Adelson Bought It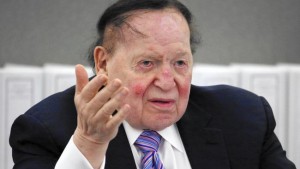 By Steve Elliott
Hemp News
The Las Vegas Review-Journal supported legalization last year. It opposes it this year. The difference? Pot-hating conservative billionaire Sheldon Adelson bought the paper last December.
As recently as last summer, the Review-Journal published an editorial strongly proclaiming that paper's stance "supporting the decriminalizing, regulating and taxing the sale of currently illegal drugs," including marijuana. The paper went on record as supporting an effort to legalize cannabis in the state that will go before voters this November, and just last year called for all presidential candidates to support "removing marijuana from Schedule I of the Controlled Substances Act."
Well, that was then and this is now. In December, arch-conservative billionaire Sheldon Adelson and his family bought the newspaper, reports Aaron Rupar at ThinkProgress. It didn't take long until Adelson -- who spent $5 million out of his own pocket to defeat medical marijuana in Florida in 2014 -- to order the paper's editorial page writers to go on a field trip to a "drug treatment center" to get them to "reconsider" their "pro-marijuana stance."
When a billionaire leans on his employees, they tend to listen. Nevada's largest paper now is singing a completely different song when it comes to weed, with a new editorial entitled "Pot Legalization Is A Bad Bet For Nevada."
The shrill bit of fear-mongering Reefer Madness propaganda tries to connect legalization with increased cancer rates and birth defects, among other really bad stuff.
"Legalizing weed would jeopardize the health of countless Nevadans, expose more people to drug abuse and addiction, put excessive stress on the state's health-care facilities and do little to relieve the state's bloated prison population," the clueless and dishonest editorial says. "And no matter how much pot enthusiasts argue otherwise, marijuana is both addictive — one in 10 people who try pot will become hooked on it — and a gateway to more deadly drugs that kill more than 45,000 Americans a year."
Despite Adelson's shrill campaign against pot, observers think Nevada's legalization initiative stands a good chance this November.
Photo of Sheldon Adelson: John Locher / Associated Press