U.S.: Senate Committee Allows Banks To Provide Services To Legal Marijuana Stores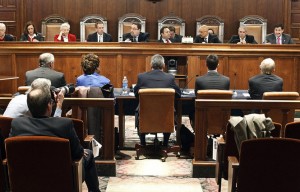 Fourth Straight Senate Victory for Marijuana Reform
Senate Bill Would Also Allow D.C. to Tax and Regulate Marijuana
By Steve Elliott
Hemp News
The Senate Appropriations Committee on Thursday voted 16 to 14 to allow banks to provide services to marijuana businesses. Currently, because marijuana is illegal under federal law, both medical and non-medical marijuana businesses are unable to access banking services like any other business. The amendment was offered by Sen. Jeff Merkley (D-Oregon).
Consequently, many marijuana businesses operate on a cash-only basis, leading to huge public safety issues as businesses become the target of robberies, and are forced to hire armed security to protect their takings.
"One of the motivations for legalizing marijuana is to eliminate the illicit market and put marijuana in the hands of a legitimate regulated market," said Michael Collins, deputy director of national affairs at the Drug Policy Alliance (DPA). "Whether you are for or against legalization, you have to recognize that having marijuana businesses handling huge amounts of cash with nowhere to deposit the money is a public safety concern that Congress has to tackle."
"For the second year in a row, the Senate's budget writers have voted to address the banking crisis facing our industry," said National Cannabis Industry Association (NCIA) executive director Aaron Smith. "Access to basic banking services is one of the most critical challenges facing legal cannabis businesses and the state agencies tasked with regulating them."
"While an appropriations amendment isn't a permanent fix to the banking problem, it is a significant step to correct a dangerous and unfair burden on responsible small-business owners and regulators," Smith said. "Bipartisan coalitions in both chambers have supported these reforms. It's time to make them the law of the land."
In addition to banking, the bill passed on Thursday allows Washington, DC, to establish regulated marijuana stores. The House version, however, has language maintaining a ban on dispensaries.
"Congressional interference has left D.C. in a state of limbo," said Kaitlyn Boecker, policy coordinator at the DPA. "Almost two years after voters legalized marijuana, it is legal to possess, use and grow marijuana in the nation's capital, but sales remain illicit and unregulated. Allowing the District to move forward with a regulatory system will increase public safety, address much needed reforms, and generate tax revenue to fund treatment and education."
A similar amendment was passed by the Senate Appropriations Committee in 2015, but was not debated in the House and was ultimately stripped out during final omnibus budget negotiations. In 2014, a similar amendment was passed overwhelmingly by the full House of Representatives, but was not debated in the Senate and was dropped during omnibus negotiations. The House has not yet debated the Financial Services Appropriations bill in 2016, but a repeat of the cannabis banking amendment is anticipated if and when that debate takes place.
Stand-alone legislation has also been introduced in both the House and the Senate which would permanently address the cannabis banking issue. The Marijuana Businesses Access to Banking Act (S.1726 and H.R.2076) has received bipartisan support in both chambers.
In November 2014, nearly 72 percent of D.C. voters approved a ballot measure making it legal to possess and grow marijuana for personal use. The campaign to pass Initiative 71 was driven by public demands to end racially-biased enforcement of marijuana laws and was seen as the first step at taking marijuana out of the illicit market.
A broad base of community support from multiple civil rights organizations, faith leaders and community advocacy groups supported Initiative 71, viewing it as an opportunity to restore the communities most harmed by the War On Drugs.
In December 2014, House Republican leadership was able to push through a controversial spending amendment that prohibited D.C. from legalizing and regulating marijuana sales, but the amendment allowed Initiative 71 to take effect. Thus, it is legal to possess, use, and grow marijuana in the nation's capital but the sale of marijuana remains illicit and unregulated.
D.C. officials, police, and drug policy experts have complained that Congress is undermining public safety by preventing the city from regulating marijuana, with some calling the situation "the Dealer Protection Act." The Financial Services spending bill adopted by the Senate Appropriations Committee on Thursday deletes the Congressional ban.
The vote is the fourth time this year that the Senate Appropriations Committee has endorsed marijuana reform measures. "We are edging closer to the day when the federal government ends marijuana prohibition," said Collins at the DPA. "There is clear bipartisan support in the House and Senate in favor of marijuana reform."
The Senate Committee on Homeland Security and Government Affairs on Wednesday held an unprecedented roundtable hearing entitled "America's Insatiable Demand for Drugs: Examining Alternative Approaches." Ethan Nadelmann, executive director of the DPA, testified and laid out his vision for ending the War On Drugs and forging ahead with new policies based on science, health and human rights.
Nadelmann provided a robust defense of marijuana legalization, presented evidence to support decriminalizing possession of all drugs, and discussed cutting-edge strategies to deal with the opioid crisis, such as safe injection facilities. He also discussed the devastating impact of the War ON Drugs on people of color.
"I think it's a positive sign that political leaders, not just in the states but even on Capitol Hill, now recognize both the failure of the drug war and the need to think outside the box in addressing our country's drug problems," Nadelmann said.
Photo: POMED