California: First Crop At Flowering Stage For Maple Leaf Green World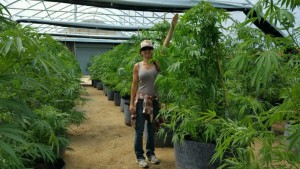 Maple Leaf Green World on Monday announced that the plants at its California greenhouse facility have been flourishing and most have reached 7 feet in height. Accordingly, the company's greenhouse personnel have started the flowering process.
This crop has four different strains and each strain has a different time frame for flowering. Harvesting is expected to take place in July after flowering, which will be followed by drying and grinding to prepare the finished products for shipment.
The size of the plants is very significant, as the bigger the plant, the higher the yield. In addition, the demand for medical marijuana is expected to be quite high during the summer months as the usual harvest time for most producers is from September onward.
As such, the selling price of the company's product is expected to be considerably higher than the price customarily available for a later harvest.
Continued progress has been made in the effort to legalize recreational marijuana in California. The Adult Use of Marijuana Act has received more than double the required signatures to place the initiative on the ballot in the upcoming November elections.
For more information regarding Maple Leaf Green World Inc., visit www.mlgreenworld.com. The website has been updated with photos of the flowering plants of the California MJ project.
About Maple Leaf Green World Inc.
Maple Leaf is a Canadian company that focuses in the agricultural/environmental industry with four main areas of activity:
• Canadian MMPR: It pursues opportunities within the medical cannabis industry. If and when a MMPR license is obtained and through an agreement to lease a greehouse facility with Woodmere Nursery Ltd., it will become a Canadian producer. It is currently seeking Canadian MMPR licensed producer status to grow medical cannabis in Canada for domestic consumption and export to approved countries.
• California Project: It pursues opportunities within the medical cannabis industry in various States that have legalized marijuana. It is currently in a joint venture with a California non-profit collective to set up a growing facility.
Eco-Agriculture: it pursues several projects around the world. In China, it is focused on growing value-added tree seedlings and nursery products that assist with anti- desertification.
Photo: Maple Leaf Green World Inc.