Nevada: 'Showgrow' Medical Marijuana Dispensary Opens In Las Vegas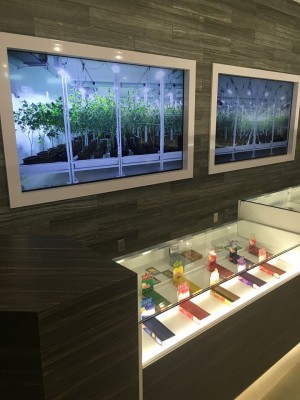 Showgrow, a medical marijuana dispensary located at 4850 S. Fort Apache Road in Las Vegas, Nevada, held its grand opening on Friday, June 24.
Growblox Sciences, Inc., announced it has secured 20 percent of the dispensary shelf space of Showgrow Las Vegas for the exclusive display and marketing of its cannabis strains. Growblox announced it also has rights through Showgrow to make home deliveries of its products.
Growblox owns a 10 pecent interest in GBS Nevada Partners LLC, which wholly owns Showgrow. Nevada Partners contracted with GreenLight District Holdings, LLC, an industry leading dispensary operator, to manage the daily operations of Showgrow.
"We are very excited that Growblox is entering the Nevada retail market, as we know local population and visitors are at the global crossroads of product awareness, efficacy, and best standards of operations," said Growblox Board Director Leslie Bocskor.
"The smooth design and construction of Showgrow affirms our judgment in choosing the prominent local business people who own the majority of and manage Nevada Partners," said Growblox founder and CIO Craig Ellins. "Their dedication and expertise enables Growblox to have a secure distribution channel while pursuing our ultimate goals of developing and patenting medicines derived from cannabis that can benefit millions of patients around the world."
"It is extremely gratifying to have successfully completed the laborious process of regulatory compliance and careful construction that enabled us to open our state of the art facility today," Nevada Partners Manager Jim Meservey said. "We look forward to the opportunity to prominently display and market Growblox products and believe that Growblox's cannabis formulations will be game-changers."
"This milestone ensures that the Company has a major Las Vegas distribution channel for our soon to open 28,000 square foot cannabis cultivation facility in Las Vegas," said Growblox CEO John Poss. "Our Nevada Partners have done a magnificent job in building out a first class facility, Showgrow, in an excellent location, and we are quite certain that this facility will be a success from day one and for the foreseeable future."