North Dakota: Industrial Hemp Production Expands, Farmers Excited For Future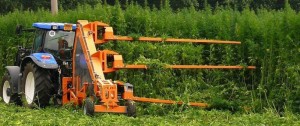 By Michael Bachara
Hemp News
Over the past few years, North Dakota's hemp production has grown into the third-largest in the nation behind Kentucky and Colorado. This year, there were 3,124 acres accepted for North Dakota's 2017 industrial hemp program. In 2016, 70 acres of hemp were planted. The boom brought interest from processing plants, with several scheduled to open by harvest.
At the moment, Healthy Oilseeds, located in Carrington, is the only processing plant certified to handle hemp in the state. The processing plant offers milling, roasting and cold press. "There's a possibility the new plant could be built yet this year in an effort to get in on part of this season's production", according to Healthy Oilseeds President Roger Gussiaas.
"I'll continue to expand the number of acres permitted if producers have the opportunity to sell product," Gussiaas said. "If I'm going to permit 20,000 acres, I'm going to check with processors to make sure they're able to handle it."
"I anticipate we could expand our production leaps and bounds," North Dakota Agriculture Commissioner Doug Goehring said.
Since North Dakota's climate and soil are great for hemp production, farmers say it's an easy crop to grow that is drought resistant and fetches a premium price.
Clarence Laub, a 240 acre Elgin farmer, said his crops are "doing well despite the drought conditions plaguing the state, especially when he compares it to his corn and soybean fields."
"It's not showing drought stress right now," Laub said. "Some hasn't germinated, but even where it's thin is a very nice stand."
Chris Zenker, one of 35 farmers and growers who received a special license from the North Dakota Department of Agriculture to grow industrial hemp for 2017, grew 15 acres of hemp as part of the state's pilot project in 2016. "We heard it (industrial hemp) grows good on poor soils," Zenker said, "so we're going to try it on some poor soils and see how it does."
Industrial hemp may be grown in North Dakota only by the North Dakota Department of Agriculture through its Industrial Hemp Pilot Program or by institutions of higher education in North Dakota for agricultural or academic research.
Photo Source: National Hemp Association