Ohio: Former NFL Players, Troy Smith, Eric Metcalf, Look to Open Cannabis Dispensary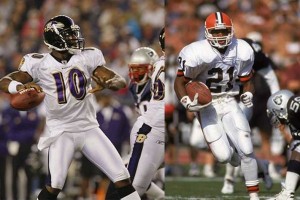 By Michael Bachara
Hemp News
Former NFL players Troy Smith and Eric Metcalf are pursuing one of the 60 dispensary licenses that Ohio will be issuing later this year. Smith, the 2006 Heisman Trophy winner who was a fifth-round pick of the Ravens, has said that head trauma he suffered while playing football is one reason he's involved in cannabis dispensaries.
"Sports is a great thing to watch when you're snacking on chicken wings, but it's dead serious. We need to pay more attention to it and be more delicate," Smith said, adding that he is certain medical cannabis can be helpful to people with brain injuries.
Smith and Metcalf have partnered with Jim Buchanan, a Seattle recreational marijuana store owner who used to live in Cleveland. Last month, the players gave public comment on draft regulations for dispensaries.
According to Ohio law, people must have at least one of 21 medical conditions to qualify for a doctor's prescription to use medical cannabis. Cancer and chronic traumatic encephalopathy (CTE) are two of those conditions, but concussions are not.
State regulators are still working through the details of Ohio's program, which must be fully operational by Sept. 8, 2018, per state law. The state received 185 applications for 24 marijuana grow licenses last month. Rules for dispensaries will be finalized this summer.
"Normally, when you don't want to do it, they say they don't want to do it. A moratorium is saying they want to see it unfold," Buchanan said. "I can't see Cleveland locking out medicine for a large community like that. That would create a huge problem."
Photo Source: Google Images