Oregon: Congressman Earl Blumenauer Sends Out 4/20 E-mail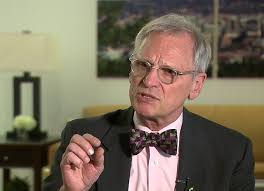 By Derrick Stanley
Hemp News
Oregon Congressman Earl Blumenauer sent an e-mail out to many citizens on 4/20 to acknowledge the unofficial marijuana holiday and to encourage them to join the fight to stop federal crackdown on states with legalized marijuana.
In the e-mail, Blumenauer says that he has been fighting the battle for marijuana reform for over 40 years. While not such an outspoken advocate until recent years, he did first vote in the Oregon legislature to decriminalize small quantities of marijuana in 1973.
The subject of the e-mail was "Happy 4-20: Take this Joint Action!" and it reads:
Dear Friends,
One in five Americans live in a state where the voters have chosen to legalize, regulate and tax marijuana. These regulations are keeping our communities safe from crime, and new jobs and industries are being created.
Unfortunately, a White House spokesperson recently announced a crackdown on states that have legalized marijuana. If this happens states will lose billions in tax revenue.
As many of you know I've been fighting this battle for over 40 years. And recently, we have seen a lot of forward movement. Earlier this year, I cofounded the first congressional cannabis caucus to continue the momentum were we are seeing at the state level for cannabis reform. I'm glad to see other leaders stepping up on this issue.
I will be joining: Senators Jeff Merkley and Ron Wyden, Representatives Peter DeFazio and Suzanne Bonamici, Washington Attorney General Bob Ferguson, and Pennsylvania Lieutenant Governor Mike Stack.
JOIN THE FIGHT, sign onto the petition and tell Trump to keep his overreaching demands on states, which would return marijuana again to the black market, losing billions in tax revenue and spiking crime.
Tell Trump to respect the rights of our state to determine marijuana policy for ourselves.
Your deadline to sign on is Friday, 4/21 at 5pm Pacific.
Thank you for keeping up the fight!
- Earl
The petition can be found at: https://www.signherenow.org/petition/let-states-regulate-marijuana/demo/