Oregon: Governor, State Police Superintendent Stand Up for Legal Cannabis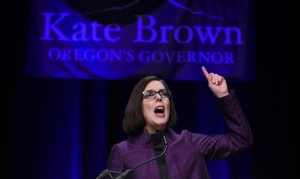 By Michael Bachara
Hemp News
In a letter Tuesday to U.S. Attorney General Jeff Sessions, Oregon Governor Kate Brown defended Oregon's cannabis regulations by publicly discrediting an Oregon State Police analysis which declared the state remains a top black market producer of cannabis.
Criticizing the analysis, Gov. Brown detailed steps the state has proactively taken to establish strict rules. Gov. Brown and Oregon State Police Superintendent Travis Hampton said that draft report was invalid and had incorrect data and conclusions. Gov. Brown noted that she also recently signed into law legislation that makes it easier to prosecute the unlawful import and export of marijuana products.
"The Oregon State Police determined that the draft report required significant additional work and revision because the data was inaccurate and heavily extrapolated conclusions were incorrect," Gov. Brown wrote.
"By using incomplete data, inaccurate research and unreliable sources, the flawed document drew unsubstantiated conclusions about cannabis legalization in Oregon to serve the author's personal agenda," Gov Brown's office announced.
Gov. Brown said her staff looks forward to continuing its work with Session's office and his representative in Oregon "to end black market marijuana operations, and to provide mutual education and support of our legal and regulated marketplace."
In April, the governors of Oregon, Colorado, Washington and Alaska wrote to Sessions and Treasury Secretary Steve Mnuchin, declaring that altering the Cole memorandum "would divert existing marijuana product into the black market and increase dangerous activity in both our states and our neighboring states."
Photo Source: Google Images