Oregon: Industrial Hemp Restrictions Eased In Beaver State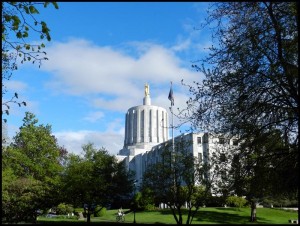 By Michael Bachara
Hemp News
Last Thursday, the Oregon House approved SB 1015A, bipartisan legislation which opens the door for industrial hemp to become the state's newest agriculture industry. SB 1015, which eases restrictions on the sale of industrial hemp products by allowing growers to sell their crops to OLCC-licensed processors, permits industrial hemp products to be sold at licensed retail locations.
"There are now 177 licensed industrial hemp growers in our state who are excited to jump into the 2017 growing season," said Representative Carl Wilson (R-Grants Pass). "The continued growth of this industry has the potential to bring good-paying jobs and new economic development to communities around the state, and particularly those in our rural communities.
"Industrial hemp can be used for a variety of different purposes, including creating fiber, seed and oil products, as well as providing positive medicinal benefits through the presences of non-psychoactive cannabinoid compounds," Rep. Wilson said.
According to Paul Stanford, the founder of Campaign for the Restoration and Regulation of Hemp, an organization working to restore hemp in Oregon since 1991, "While I would like to see hemp grown for seed oil and protein be allowed without predetermined, artificial and counterproductive limits on THC content, I applaud this legislation because it gives hemp farmers an additional market and opportunities to prosper. Hemp is the oldest and most productive crop sown, and we need to restore hemp."
As soon as either the hemp flowers or refined products are transferred to the OLCC-licensed processor, hemp must be entered into the Patridge seed-to-sale tracking program, which is required at recreational cannabis establishments.
"This measure provides our industrial hemp growers with an additional pathway to grow their businesses and allows OLCC-licensed producers and retailers to offer an expanded variety of products that are currently in demand by Oregon consumers. I look forward to this bill being signed into law and the economic opportunities that will be realized because of it," Rep. Wilson said.
SB 1015A now heads to Governor Kate Brown's desk, where it is expected to be signed into law.
Photo Source: CRRH