Oregon: Twelfth Annual Global Cannabis March to be Held May 7th
By Anna Diaz, Hemp News Correspondent/Oregon NORML
Photo by LK, Hemp News Correspondent/Oregon NORML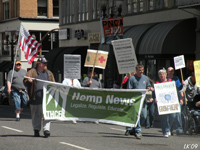 Saturday, May 7, 2011 marks the twelfth annual Global Cannabis March in Portland, Oregon. This year's March and rally runs from 10:00am to 2:00pm. Participants will gather in Pioneer Courthouse Square to march at high noon through downtown Portland, accompanied by a police escort. Cures-Not-Wars join the Oregon affiliate of the National Organization for the Reform of Marijuana Laws (Oregon NORML) and the World Famous Cannabis Cafe as sponsors of this event.
Madeline Martinez, Executive Director for Oregon NORML reports, "We hope to increase the size of the march to over 3000 in light of the many challenges currently faced by cannabis consumers."
Wy'East Drummers promise to inspire as they provide the send off for the march. Speakers for the rally include Anthony Johnson, Oregon Green Free Clinical Services Director.
"I am honored to be asked to participate," stated Anthony, who, along with the Coalition for Patients' Rights is a recipient of the 2010 Oregon Medical Cannabis Awards Freedom Fighter of the Year Award.
Paul Stanford from THCF Medical Clinics and Chief Petitioner for the Oregon Cannabis Tax Act joins Anthony along with Madeline Martinez, Executive Director of Oregon NORML and World Famous Cannabis Café founder. Members of the Board of Directors for Oregon NORML, Anna Diaz, Scott Gordon and Paul Loney are also slated to speak. Watch for a special appearance from J.Mack and Big Dub during the rally.
Voter registration and educational information will be available to the public.
After the rally, OMMP registrants are invited to the World Famous Cannabis Café to celebrate the twelfth anniversary of the Oregon Medical Marijuana Act.
Look for J.Mack and Big Dub to pay a visit to the party, too. For more information about the party, please call the café at 503-208-3395 or visit their website at www.worldfamouscannabiscafe.com.
To volunteer or for questions about the march and rally, please email GlobalCannabisMarch@Ornorml.Org, call the Oregon NORML message line at 503-239-6110 or visit www.ornorml.org. Come out and join what has become a staple of local Portland culture, the Global Cannabis March.