U.S.: PA Governor Vows to Protect Medical Marijuana Patients From AG Sessions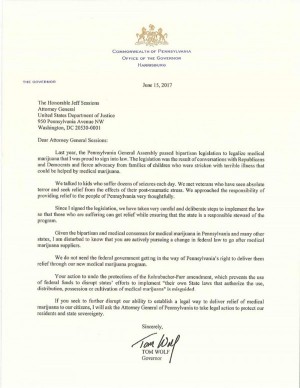 "If you [Attorney General Sessions] seek to further disrupt our ability to establish a legal way to deliver relief of medical marijuana to our citizens, I will ask the Attorney General of Pennsylvania to take legal action to protect our residents and state sovereignty." Governor Tom Wolf
By Michael Bachara
Hemp News
In a letter to U.S. Attorney General Jeff Sessions, Pennsylvania Governor Tom Wolf said the federal government should not get in the way of Pennsylvania delivering relief via medical marijuana to suffering children, families and veterans. The letter comes after reports that Attorney General Sessions had personally asked Congress to repeal an amendment that protected state-approved medical marijuana programs from disruption by the federal government.
"Last year, the Pennsylvania General Assembly passed bipartisan legislation to legalize medical marijuana that I was proud to sign into law," Governor Wolf wrote. "The legislation was the result of conversations with Republicans and Democrats and fierce advocacy from families of children who were stricken with terrible illnesses that could be helped by medical marijuana."
"Given the bipartisan and medical consensus for medical marijuana in Pennsylvania and many other states, I am disturbed to know that you are actively pursuing a change in federal law to go after medical marijuana suppliers. We do not need the federal government getting in the way of Pennsylvania's right to deliver them relief through our new medical marijuana program, " Governor Wolf continued.
"Your action to undo the protections of the Rohrabacher-Farr amendment, which prevents the use of federal funds to disrupt states' efforts to implement "their own State laws that authorize the use, distribution, possession or cultivation of medical marijuana" is misguided," Governor Wolf wrote.
In the conclusion of the letter, Governor Wolf told the U.S. Attorney General that should he continue to pursue this federal shift and Congress were to agree, he would seek legal action to protect patients and legal producers.
Photo Source: governor.pa.gov