Pennsylvania: Industrial Hemp Plot Planted In Perry County, Harvest To Be Cattle Feed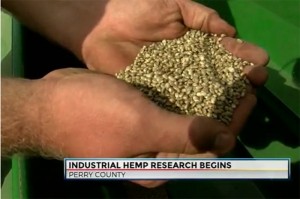 From 1681 until around 1840 the culture of hemp was nearly universal in Pennsylvania
By Michael Bachara
Hemp News
On Tuesday, an industrial hemp research plot was planted in Perry County, Pennsylvania. If successful, the seeds should germinate in about a week and mature in 100 days.
Juniata Township landowners Bill and Martha Roberts successfully applied for the Pennsylvania Department of Agriculture's 2017 Industrial Hemp Research Pilot Program, which the department launched in December after Governor Tom Wolf and the General Assembly enacted Act 92 of 2016. The couple will grow five acres of industrial hemp on their 100-acre farm. The farm chose seed varieties from Canada that do not grow above five-feet tall. The cultivars will not require their equipment to be modified, thus saving money.
The permit granted, one of 16 throughout the state, specifically allows for agricultural hemp to be harvested for the purpose of feeding cows.
"Industrial hemp has a long history in the U.S. and in Pennsylvania, but it has been missing from the landscape since the mid-20th century," explainedSecretary of Agriculture for the Commonwealth of Pennsylvania Russell C. Redding, "As a result, we have missed out on many economic opportunities. Thanks to the federal Farm Bill, Governor Wolf and the General Assembly, though, we now have the chance to re-establish this promising plant in Pennsylvania, which we believe could offer farmers tremendous new opportunities down the road. The first step in realizing those opportunities, however, is to demonstrate the viability and the potential of the plant through these research projects."
"Instead of grass-fed cows, we'll have hemp-fed," Martha Roberts stated. "We're going to harvest the plants, remove the seeds from it and press it to remove the oil. What remains is a high-protein byproduct known as cake."
"One group will be eating conventional grain. The other will be finished (supplemented) on hemp," Martha Roberts said. "That's not the only thing they're gong to get. They will still have access to grass. We'll see. I think we're anticipating animals that might grow a little faster."
"We thought it was hush, hush; big secret," Bill Roberts joked. "But everyone is so interested in this, and we want people to know what this crop is really all about because it could be an amazing opportunity for farmers to diversify."
Many farmers believe industrial hemp could be a cash crop that can provide another option and revitalize the economy while keeping Perry County and the state agricultural.
Between 1720-1870 there were several hundred water-powered mills for processing hemp fiber throughout Pennsylvania.
Photo Source: ABC 27