Pennsylvania: Industrial Hemp Sown For First Time In Decades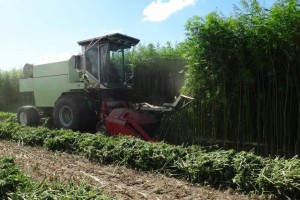 Industrial Hemp was an important crop and a major industry in Pennsylvania, grown in the Commonwealth until the 1940's
By Michael Bachara
Hemp News
For the first time in over 80 years, researchers and farmers are allowed to cultivate hemp in Pennsylvania, with permits. The new law allows permit holders to grow up to five acres of industrial hemp.
After fifty years of growing acres of various crops at his family's farm near Milton, Abram Ziegler has turned to industrial hemp to help his farm.
"There are people who are curious and people who need to be educated about what this is that we are growing," Ziegler said. "So we'll harvest the seed like we do with any other grain, then what's left of the stalk will be harvested like we would hay and market that somewhere we're not sure," Ziegler continued.
"What you're seeing now is the culmination of some 20 years of effort by some of my colleagues in the Pennsylvania hemp industry," said Geoff Whaling, President of Pennsylvania Hemp Industry Council. "I am hopeful that we can re-establish the industrial hemp crop in the Lehigh Valley," added Whaling.
The hemp pilot program will be used to create goods for health products and sustainable products, including construction materials.
"I started transitioning from whey protein to digestible hemp protein," said Riley Cote, a board member of the Pennsylvania Hemp Industry Council. Cote, a former Philadelphia Flyer and current Phantoms Assistant Coach, has been a vocal advocate for hemp nutrition.
State Representative Garth Everett, who believes hemp could be a big financial windfall for farmers, businesses, and the Commonwealth, supports the historic research. "Long term agriculture is still the number one industry in Pennsylvania. This could be a very valuable agricultural product and it could be sued for a lot of things. This is a new era for growing hemp," according to Rep Everett.
In 1681, William Penn, the founder of Pennsylvania, intended to greatly expand the production of hemp. At his request, one of the first laws passed by the General Assembly in 1683, encouraged all farmers to grow hemp. In 1685, Penn observed great quantities of hemp being grown and declared hemp would be among the four staples of trade.
The Pennsylvania Department of Agriculture has approved 16 research projects that explore use and viability of industrial hemp.
Photo Source: The Daily Chronic