Arizona: Phoenix Medical Marijuana Dispensary Robbed At Gunpoint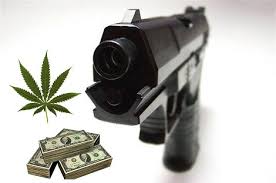 By Derrick Stanley
Hemp News
Police in Phoenix, Arizona are looking for three suspects for the armed robbery of a medical marijuana dispensary.
According to police, the robbery occurred around 10:00 p.m. on March 26 at Bloom Dispensary near 44th Street and Washington in Phoenix.
One suspect walked through the business and attempted to leave a door unlocked for two accomplices that were seen waiting behind the dispensary. Employees were able to re-lock the door, preventing the suspects from being able to enter.
About one hour later one of the suspects that had been waiting behind the business returned and confronted employees with a gun.
Police say the employees were taken to the back room and forced to surrender money from the business. That suspect then fled in an unknown direction with the money.
All three suspects are described as black men aged between 25-35, 6 feet tall and weighing 180-200 pounds.
Phoenix police are asking anyone with information to call Silent Witness at 480-WITNESS.