Oregon: Portland Pot Dispensary Donates Sales To Sanders' Campaign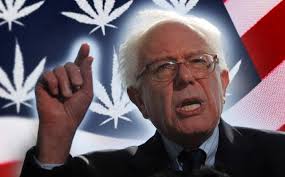 By Derrick Stanley
Hemp News
A marijuana dispensary in Portland is planning to donate a portion of its sales to Vermont Sen. Bernie Sanders' presidential campaign, KGW-TV reported today.
Foster Buds, which has two stores, pledged to contribute ten percent of sales from every $10 "Farmer 12" joint to Sanders' campaign.
"The cannabis community has never been appropriately represented or considered on a federal stage. Cannabis enthusiasts, supporters and medical patients come from every walk of life now, and we all deserve a president who will rally to reschedule cannabis and transform America's Cannabis policies," Foster Bud wrote on Instagram. "We believe Bernie Sanders is the best and most likely candidate to appropriately represent the needs of our community."
The stores will also be giving away "Burn One For Bernie" T-shirts.
Store manager Ken Martin feels it's only logical to support Sanders. "Everything he's looking to do is for the betterment of us. He's looking to keep the medical community, he sees the advancements — so why not support him?" Martin asked.
Sanders has come out in favor of ending federal prohibition of marijuana. His website says that he supports medical marijuana and the decriminalization of recreational marijuana, as well as the right of states to opt for full legalization. He co-sponsored the Marijuana Businesses Access to Banking Act of 2015 to ensure access to banking services for legitimate marijuana businesses.
He doesn't care for pot himself, however. "Because I coughed a lot, I don't know. I smoked marijuana twice, didn't quite work for me. … It's not my thing, but it is the thing of a whole lot of people," Sanders said in an interview with Yahoo News.