U.S.: Public Support For Marijuana Legalization Surged In 2016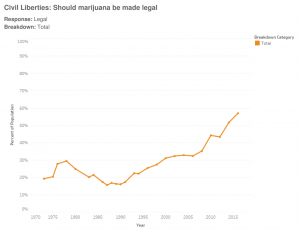 By Derrick Stanley
Hemp News
Public support for marijuana legalization surged in 2016, according to data just released from the General Social Survey.
57 percent of Americans told the survey's pollsters last year that they "think the use of marijuana should be legal," up from 52 percent in 2014.
The numbers from the General Social Survey agree with other national surveys last year, which found support ranging from the upper 50s to low 60s.
The survey indicates different attitudes toward marijuana legalization, divided mainly by age and political party. Two-thirds of respondents ages 18 to 34 supported legalization in the survey, as well as majorities of those ages 35 to 49 and 50 to 64. But seniors 65 and older stood apart, with only 42 percent supporting legalization.
Support for legalization among Democrats and independents has risen much faster than among Republicans. In 2016, more than 60 percent of the former two groups supported legal marijuana. Among Republicans support stood at only 40 percent.
Attorney General Jeff Sessions has been outspoken in his criticism of legalization, but the Trump administration has been noncommittal in its approach to marijuana enforcement