Indiana: Rapper Twista Arrested For Marijuana Possession Before Concert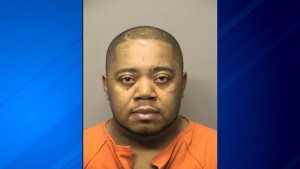 By Derrick Stanley
Hemp News
Carl Terrell Mitchell, better known as the rapper Twista, was arrested Thursday night on drug charges on his way to perform a show at a club in northwest Indiana.
In his 2009 song "Fire," Twista raps about smoking marijuana: "Looking at me rolling the blunt / And I'm huffing and puffing / I can't get enough of this stuff and I'm losing my logic / You could smell it all on my follicles."
Police officers stopped a black Rolls-Royce on US 6 eastbound from Willowcreek Road in Portage, Indiana for following too close. The Porter County Sheriff's Office said that their officer smelled marijuana when he approached the car, and asked the driver to get out.
The driver said he was driving Twista to a show at Big Shots bar in South Haven, Indiana. He also told officers they had been smoking pot.
Officers found about half an ounce of marijuana in a fake can while searching the car. All four of the men in the car denied the pot was theirs, and all four were arrested, forcing the cancellation of the concert scheduled for later that night.
"The information we received regarding the two [artists] booked at Big Shots (Twista on March 24 and Montana of 300 on March 25) alleged they would bring a large crowd to the area," Porter County Sheriff David Reynolds said in a statement. "In the past, violence had erupted at these rap artists' concerts."
The arrest has led the owner of Big Shots, Ed Roseberry, to complain about the local sheriff's department, the Chicago Tribune reported. "(Police) only show up when we have a certain demographic at the rap shows," said Roseberry, implying that the cops had unfairly targeted the Chicago emcee and his entourage. "What really hurt me is we did everything and police said later we did a tight job but they got Twista with a little old weed charge."
Mitchell, 42; the driver, 42-year-old Johnnie Euell of Frankfort; and the two passengers, 43-year-old Michael Alton Moore of Matteson; and 26-year-old Darrin Jamar Woody of Harvey, were each charged with one misdemeanor count of possession of marijuana, police said. A judge ordered a $500 cash bond for each.