Nevada: Recreational Marijuana Legal Sunday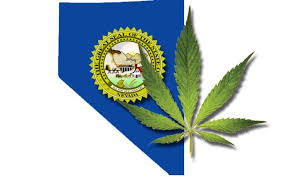 By Derrick Stanley
Hemp News
The recreational use of marijuana will become legal in Nevada on Sunday, January 1, following the passage of Question 2 in the last election.
Adults 21 and over will be allowed to possess up to one ounce of marijuana or up to one-eighth ounce of cannabis concentrate as of Sunday, but it will be a while before individuals can buy pot without a medical marijuana prescription card, due to Nevada's need to establish a licensing and taxation infrastructure.
"A lot of them seem to think that when Jan. 1 hits, everything's going to be legal and open. … But it's going to take a while to set a template," said Jim Bergen, a dispensary manager at Mesquite's Deep Roots Harvest medical marijuana outlet.
The Department of Taxation is responsible for developing licensing qualifications and procedures, as well as the regulation of businesses that deal in the drug's cultivation, distribution and retail sales in Nevada.
"The Department is already working to develop temporary regulations," Deonne Contine, the agency's executive director, stated in a news release following last month's elections. "We intend to hold a public workshop very early in 2017 and then have our temporary regulations adopted so we can begin issuing licenses."
The law allows the agency until January 2018 to finalize the rules for legal sales.
The delay in establishing a legal infrastructure could be a boon for black market operations since users can possess marijuana as long as they aren't caught illegally buying it.
"My personal fear is that, because we don't have a process to purchase it, that it's going to create a black market, where the product will be inferior because it won't be grown and tested the way our medical product is," Nevada Sen. Tick Segerblom told the Nevada News Service. "And it won't be taxed, so the state won't be getting the revenue that we hope to get from legalized marijuana."
Segerblom said he will propose a legislative bill in February to immediately allow medical marijuana dispensaries to sell cannabis to people over 21, even if they don't have a medical marijuana card.