Colorado: NFL Players Fight Pain With Medical Marijuana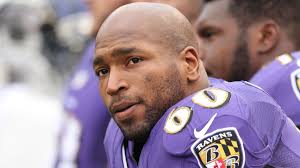 By Derrick Stanley
Hemp News
Nine former professional football players, all members of the Denver Broncos Alumni Association, met recently at CW Hemp offices in Boulder, CO for a tour and a firsthand lesson on the potential benefits of the marijuana plant. They all suffer daily from aches and pains that are a result of the combined nearly 700 NFL games in which they have played.
"Every day, I wake up in pain, from my ankles to my neck," said Ebenezer Ekuban, 40, who played defensive end for nine NFL seasons. "It's part of the territory. I know what I signed up for."
Football players have treated pain for years with over-the-counter anti-inflammatories, powerful prescription painkillers, and alcohol. One study says that retired NFL players use opioids at four times the rate of the general population. Marijuana advocates say there's a safer, healthier alternative available.
"This pain is never going away. My body is damaged," said Eugene Monroe, 30, who was released by the Baltimore Ravens last year just three weeks after becoming the first active player to publicly call on the NFL to permit medical marijuana. "I have to manage it somehow. Managing it with pills was slowly killing me. Now I'm able to function and be extremely efficient by figuring out how to use different formulations of cannabis."
NFL Commissioner Roger Goodell said last week that he opposes players using the drug recreationally but is willing to listen to the league's medical advisers on the potential value of medicinal marijuana. "To date, they haven't said this is a change we think you should make that's in the best interests of the health and safety of our players," he said. "If they do, we're certainly going to consider that."
Del Jolly, CW Hemp's business development manager, greeted the retired players as their tour began. "Hey, everybody. Thank you so much for being here," he said. "We're excited to tell you about who we are, how much care is put into this product, and how it's incredibly legit, incredibly safe and incredibly high-quality, something we need to get the NFL to start understanding."
CW Hemp specializes in marijuana that is rich in cannabidiol (CBD) that the ex-players were told acts acts much differently than marijuana as most people know it.
"The plant used to be called "hippie's disappointment," Vijay Bachus, the company's site director, told the former players, "because it wouldn't get you high."
"It had high levels of CBD but low levels of THC. Nobody would be smoking it for recreational purposes," he said, likening the THC levels to the amount of alcohol found in an O'Doul's.
THC — tetrahydrocannabinol — is the cannabinoid that produces the high that most associate with marijuana. CBD has some similar properties but not the psychoactivity and mood-altering effects.
Recent studies have found evidence that CBD can be effective treating everything from epilepsy and cancer to heart disease, diabetes, anxiety and schizophrenia. There are hopes that it may be valuable in treating and preventing head injuries since it can also act as an anti-inflammatory and a neuroprotectant.
"I think in due time, the NFL is going to realize that CBD is not a performance-enhancing drug," Ekuban said. "If anything, it helps with anxiety, helps with concentration, it helps with pain."
The NFL seems resistant to change even though it has indicated an interest in studying the issue of allowing medical marijuana. Goodell told ESPN Radio last week that marijuana is unhealthy and addictive and that he is not currently in favor of allowing players to use it recreationally.
"Listen, you're ingesting smoke, so that's not usually a very positive thing that people would say," the league commissioner said. "It does have [an] addictive nature. There are a lot of compounds in marijuana that may not be healthy for the players long term. All of those things have to be considered. And it's not as simple as someone just wants to feel better after a game."
"There is no doubt that players are using cannabis extensively, almost as a substitution therapy for other treatments that the NFL is offering that they perceive as more toxic or highly addictive," said Sue Sisley, an Arizona-based physician who serves on the board of advisers for the Korey Stringer Institute, which has worked with the NFL on health and safety issues. "For instance, these players obviously receive mega-dosages of opioids easily from their trainers and team docs. But when they want to seek out what they believe is a safer, less toxic alternative like cannabis, they're fined and sanctioned."
"I would hope that the NFL stands by what it says it stands for — player health and safety, first and foremost," said Monroe, who has emerged as football's most prominent marijuana proponent since his retirement. "If that statement is true, there's enough info out there right now for the NFL to make a smart decision."