Study: Cannabis Component Reduces Seizures For Some Epilepsy Patients, According To Research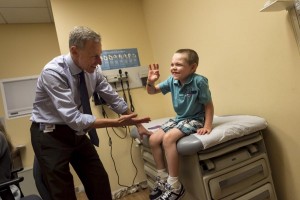 By Michael Bachara
Hemp News
An oil derived from the cannabis plant sharply reduces violent seizures in young people according to a study published last Wednesday in the New England Journal of Medicine. The study focused on patients with Dravet syndrome, a severe type of epilepsy.
"This is the first solid, rigorously obtained scientific data that a marijuana compound is safe and effective for this problem," said Dr. Orrin Devinsky, a neurologist at New York University Langone Medical Center and primary author of the study.
"After 3,800 years of cannabis use for epilepsy we finally have solid evidence," said Dr. Devinsky. In previous research, Devinsky indicated that cannabis was used as early as 1800 B.C. in Sumeria to treat epilepsy; neurologists of the Victorian period used Indian hemp, which is rich in cannabidiol, for the same purpose.
Dr. Devinsky believes research into promising medical uses has been hampered by requiring scientists to get special licenses, plus legal constraints and false notions of how risky marijuana is.
For the trial, researchers enrolled 120 children from 2 to 18 years old. Participants took about a teaspoon of a sweet-smelling oil twice a day (drug or placebo) plus their usual anti-seizure medicines for 14 weeks. Their symptoms were compared to the previous month.
In an editorial published with the study, Dr. Samuel Berkovic of the University of Melbourne called the trial "welcome" and "the beginning of solid evidence for the use of cannabinoids in epilepsy." But he noted that it needs to be replicated and that other studies will be required to know if cannabinoids — the different components of cannabis — can help with other forms of epilepsy and to treat adults.
GW Pharmaceuticals, the company which funded Devinsky's research, plans to submit the drug for approval by the Food and Drug Administration this year.
Photo Source: NYU Comprehensive Epilepsy Center