Survey: 87 Percent of NFL Players Support Medical Cannabis Use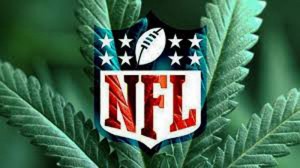 The majority of NFL players use opiate-based painkillers, and most would rather try medical cannabis for pain relief, according to survey
By Michael Bachara
Hemp News
A recent survey sent to current and former National Football League (NFL) players shows 87 percent of players think the league should change its stance on cannabis and allow players to utilize the herb for medical purposes.
The 38-page survey, which includes answers from 152 respondents, reveals 89 percent of players think medical cannabis could be used to effectively treat pain if the league allowed it. Approximately 45 percent of players surveyed said they felt pressured into using chemical painkillers by team doctors, staff, and teammates.
Additionally, the survey found, nearly 91 percent of current and former NFL players have either ingested or injected opiate-based painkillers like oxycodone and hydrocodone. 74 percent of players said they experienced negative side effects from painkillers and 65 percent said they were concerned that they might become addicted or had become addicted to narcotics.
"These guys are national heroes, yet they are being given harmful and addictive substances by league doctors so that they can have a good day on the field," Brad McLaughlin, the creator of the study, said in a press release. "The saddest thing is that there's a better alternative — but the league is senselessly dragging their feet on allowing medical marijuana for therapeutic use for players. It's causing a lot of harm, and a lot of players are really unhappy with the state of things. Our survey shows that."
"Our survey shows that without a doubt, NFL players want and need to be able to use medical marijuana to manage pain," McLaughlin, said. "At this point, any doctor you ask will tell you that marijuana is extremely effective for pain management and that there is literally zero risk of physical dependency."
87 percent of players said they would consider using medical cannabis for pain relief if it was recognized in league policy, and 86 percent said they would consider medicinal cannabis to treat stress, insomnia or anxiety if the NFL allowed it.
The league currently bans all cannabis use among players in every state, regardless of state cannabis laws.
Photo Source: Herb.co