Switzerland: Advocates Renew Push For Legal Adult-use Marijuana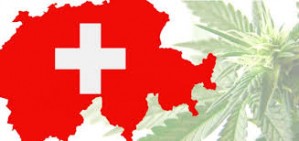 By Derrick Stanley
Hemp News
Swiss advocates are renewing their push to legalize marijuana consumption and cultivation for adults. Possession of marijuana was decriminalized in Switzerland in 2013, when laws were relaxed and criminal penalties for possessing 10 grams of cannabis or less were reduced to a fine of 100 francs (about USD$100).
An initiative to legalize marijuana failed in Switzerland in 2008. That initiative would have legalized marijuana cultivation and use for everyone, including minors, and didn't provide for any government tax.
Nine Forrer of Legalize It, the group behind the campaign, argued that legalizing cannabis would help curtail the informal market.
"The ban on cannabis is wrong from a social perspective, wrong from a legal point of view and simply stupid from an economic point of view." Forrer said in a report by Tages-Anzeiger, a Swiss German-language newspaper published in Zurich.
The Swiss government is presently considering a trial program that would allow state-controlled marijuana sales in cannabis clubs in four cities and another trial that would allow cannabis sales in selected pharmacies.