U.S.: Take Action Against Prohibitionist Attorney General Sessions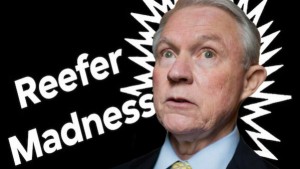 By August, states that have legalized recreational and medical cannabis should have a better idea how the Justice Department and Trump Administration plan to act
By Michael Bachara
Hemp News
Attorney General Jeff Sessions, the ever outspoken critic of cannabis, issued a recent directive stating he wants to increase asset forfeiture, which would allow the government to seize money and property from people suspected of a crime even before conviction. If the businesses have the means to sue to get their assets back, the case would be time consuming, stressful and expensive and virtually impossible for the entity to survive financially.
"Does it tie in specifically with our industry? I don't know for sure," Bruce Nassau, partner in Tru Cannabis dispensary in Colorado and Oregon, says of AG Sessions' push for more asset forfeiture. "But it certainly gets one to speculate, doesn't it?"
"I wouldn't be surprised if what Sessions does is settle for enough prosecutions to terrify people and not try to shut down the system systematically," says Mark Kleiman, head of the crime and justice program at New York University's Marron Institute of Urban Management. "Not only can't they protect themselves from being shut down, they can't protect themselves from being sent to prison for what they've already done... These people are taking insane risks."
"This is not a fight this Administration wants to take," Rep. Earl Blumenauer (D) OR warned in a statement, "The legalization train has left the station."
Senator Ron Wyden (D) OR said, "Jeff Sessions can't cherry-pick on a whim which states' rights he likes and which ones he doesn't. Voters in Oregon and a growing number of states who have chosen to legalize marijuana should not have their votes casually thrown in the trash by this administration."
On July 26, AG Sessions issued the following statement on the work of the Task Force on Crime Reduction and Public Safety, which read, "Reducing this crime surge is a top priority for President Trump and the Department of Justice. Consistent with the President's Executive Order on a Task Force on Crime Reduction and Public Safety, I created the Task Force in February and it has provided me with recommendations on a rolling basis."
The review being conducted by a subcommittee of a larger crime-reduction task force that will issue recommendations is co-chaired by Steve Cook, an assistant U.S. attorney in Tennessee who like Sessions advocates harsh criminal penalties and a prohibitionist view of drug prohibition. The other co-chair is Robyn Thiemann, a longtime department official who works as a deputy assistant attorney general in the Office of Legal Policy.
DEA acting administrator Chuck Rosenberg said recently that he is not personally involved in the review, and that he didn't know if any of his subordinates were involved.
In a stunning denial of science, Deputy US Attorney General Rod Rosenstein testified to the Senate last month, "The question of whether it's (marijuana) legal under federal law is resolved because Congress has passed a law — it's illegal. Scientists have found that there's no accepted medical use for it."
In April, a nationwide CBS News poll found that support for legalizing cannabis is at 61 percent and 71 percent think the federal government shouldn't disrupt states that have already legalized the herb.
It's time to take action against Jeff Sessions. Contact your Senators urging them to support and advocate for cannabis and ask them to oppose the Attorney General's prohibitionist stance on cannabis.
Photo Source: Herb.co