Oregon: THCF Medicinal Cannabis Garden Helping Patients
Fruitful Harvest Shared Among Patients Seeking Natural Alternative to Prescription Medicine
By Michael Bachara, Hemp News Staff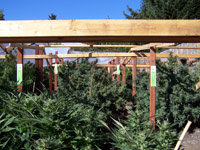 Hemp News recently made a visit to experience a legal medical cannabis garden managed by the Hemp and Cannabis Foundation (THCF) in Portland, Oregon. We spent some time with growers, patients, and community members, in an attempt to shed light on the subject of medical cannabis, and to document the THCF's efforts to help medical cannabis patients in the community.
With this visit, we found a great number of appreciative patients who, without the THCF community garden, would simply go without their medicine. This is a common problem among medical cannabis patients across the United States. They neither have ability, time, or space to set up and maintain a small grow room or outdoor garden, nor the green thumb to produce a fruitful harvest. THCF has allocated a portion of this most recent harvest to help cancer patients who are currently going through chemotherapy to fight their disease. Cannabis can help alleviate the side effects that result from chemo treatment.
Many people live in constant pain, with a wide variety of ailments from chronic back pain to debilitating peripheral neuropathy. Using medical cannabis allows them to be free from the daily use of products such as acetaminophen (Tylenol), naproxen sodium (Aleve), aspirin, or prescription pharmaceuticals. Long term use of these chemicals can be harmful to your body. Community garden projects like the THCF's allow patients the ability to avoid these pharmaceutical regimes and opt for natural medicine. With medical cannabis they gain a better quality of life for themselves and their families. This writer has witnessed medical cannabis relieve pain effectively first hand, and I believe it needs to be legalized immediately. It is truly a magnificent plant that needs to be studied, in depth.
THCF's medical cannabis garden not only allows medicine for many patients who need it, but also creates an opportune learning environment for the growers. These cannabis growers gain valuable knowledge that allows them to combine different genetic properties of various plants in order to create new and different varieties that will attempt to more effectively fight the pain of specific diseases. Over time, with patience and persistence, cannabis can continue to evolve as a viable and reliable source of medicine.
The success of the THCF's medical cannabis garden shows that if communities join together, anything is possible.
End Cannabis Prohibition. Restore Hemp!
http://thc-foundation.org
http://drugsense.org
http://jackherer.com
http://mapinc.org
http://norml.org
http://crrh.org