Maine: Travel Guru Rick Steves Donates $50,000 To Marijuana Legalization Campaign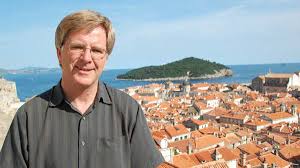 By Derrick Stanley
Hemp News
Rick Steves, popular travel writer and television host, has donated $50,000 to Maine's political action committee devoted to seeing recreational marijuana legalized in the state.
The Campaign to Regulate Marijuana Like Alcohol says in its latest campaign finance report that it has raised just over $191,000 for the reporting period that ended on July 19.
Steves promised to match "dollar-for-dollar" donations up to a total of $50,000 in a letter to legalization supporters in May. Campaign finance records show that his donation was made on July 18.
"Through my travels in Europe, I've learned that pragmatic harm reduction makes much more sense than legislating morality," Steves wrote in the letter. "And I believe in civil liberties. Responsible adults should be able to use marijuana, just as they can use alcohol. Washington, Oregon, Colorado and Alaska have demonstrated that it is possible to build a system of marijuana control and regulation that works. This isn't about being 'soft' or 'hard' on drugs. This is about being smart – and controlling and regulating marijuana the right way."
Steves has worked for legalization in both Washington and Oregon, and resides in Washington.
The campaign in Maine has so far raised a total of $436,000, and had about $93,000 cash on hand at the end of the reporting period.
Medical marijuana use was made legal in Maine in 1999.
If the measure to legalize in Maine passes, adults could possess up to 2½ ounces of marijuana and cultivate up to six plants for personal use. Marijuana use would be prohibited in public, with violations punished by a $100 fine. The bill would add a sales tax of 10 percent to retail marijuana and marijuana products.
"We are proud to have support of many people both in state and out of state," said David Boyer, the director of the campaign in Maine. "This is a state campaign but it's part of a national campaign to make marijuana legal and we appreciate philanthropists like Rick who want to change this failed policy of prohibition."