United States: Trump Administration Rhetoric Against Cannabis Includes Mandatory Minimums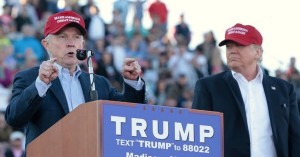 By Michael Bachara
Hemp News
In May, the Trump Administration upped its tough-on-crime rhetoric, which would put in place policies that would take our country back into the dark era of the 1980's. A memo last month from Attorney General Jeff Sessions, which directed federal prosecutors to pursue the severest penalties possible for any crime, including drug offenses, sought mandatory minimum sentences for federal drug crimes.
Sessions, recently proclaimed, "We know that drugs and crime go hand-in-hand. Drug trafficking is an inherently violent business. If you want to collect a drug debt, you can't file a lawsuit in court. You collect it by the barrel of a gun."
One of the key architects of Sessions' sentencing memo was Steven Cook, a former federal criminal justice prosecutor.
"Steve Cook thinks that everyone who commits a crime ought to be locked up in jail," according to Bill Killian, a former U.S. attorney who worked with Cook on previous cases.
In the final term of the Obama administration, then-Attorney General Eric H. Holder Jr. instructed federal prosecutors to seek less severe prison sentences for nonviolent drug offenders.
If the Trump administration were to come down harsh on cannabis, it might set up a showdown with one of his toughest allies in Rep. Dana Rohrabacher (R-Calif.), co-author of a cannabis amendment. Rep. Rohrabacher doesn't think the Trump Administration will go after the country's $6.7 billion legal marijuana industry. "It would be a huge waste of his time and money, and why would he do that?" Rohrabacher told the Orange County Register in May.
It is hard to say what the so-called "leader of the free world" will do. In April, Trump called to congratulate Philippines President Rodrigo Duterte, a ruthless prohibitionist who has encouraged his constituents to kill drug addicts. Duterte's regime has overseen an anti-drug crusade creating thousands of deaths by law enforcement and rogue groups.
"I just wanted to congratulate you because I am hearing of the unbelievable job on the drug problem. Many countries have the problem, we have a problem, but what a great job you are doing and I just wanted to call and tell you that," Trump said.
Last week, at a ceremony at the Cleveland Clinic, Acting Drug Enforcement Administration Chief Chuck Rosenberg stated his belief that "marijuana is not medicine."
Deputy Attorney General Rod J. Rosenstein recently gave DEA employees, calling them "warriors of freedom." Rosenstein said, according to reports, "demand for illegal drugs was creating "a cycle of death and despair".
"The Department of Justice must be in a position to use all laws available to combat the trans­national drug organizations and dangerous drug traffickers who threaten American lives," said Dept. of Justice Spokesman Ian Prior.
Please contact the White House at (202) 456-1111 and ask President Trump to honor states rights, support cannabis research and legislation.
Photo Source: Google Image, BTLonline.org