U.S.: Congressmen Introduce Industrial Hemp Farming Act of 2017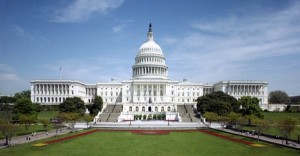 Bill would legalize production of industrial and research hemp in the U.S.
By Michael Bachara
Hemp News
Recent Congressional action, which would move the U.S. closer to legalizing industrial hemp, was introduced by Congressman James Comer (KY-01) today in the U.S. House of Representatives. The bipartisan Industrial Hemp Farming Act of 2017, which would remove hemp from the Controlled Substances Act (CSA) and legalize its production in all 50 states, has four initial co-sponsors.
"I'm glad to file the Industrial Hemp Farming Act of 2017 after getting a bipartisan consensus of Congressmen on board," said Congressman Comer. "This will be my priority legislation."
The U.S. is the world's largest consumer of industrial hemp; however, American farmers are currently federally prohibited from growing hemp due to CSA regulations banning the production of all cannabis species, including hemp and its stigmatized cousin cannabis, unless it's part of a heavily restricted, state-implemented pilot program. While hemp and marijuana are derived from the same plant species, there are differences between the two. The seed and stalk of hemp plants can be used for a wide range of products including textiles, food, nutritional supplements, cosmetics, and biofuels.
Passage of this legislation would create jobs and stimulate significant economic growth for American farmers and rural communities nationwide.
"We applaud the introduction of the Industrial Hemp Farming Act of 2017, which will further distinguish industrial hemp as a distinct product and enable states across the U.S. to benefit from the agricultural and manufacturing growth generated by the production of hemp," said Eric Wang of Ananda Hemp.
Ananda Hemp was the first U.S. company to be licensed as a hemp producer under Section 7606 of the 2014 Farm Bill and has since worked closely with the Kentucky Department of Agriculture to produce the most compliant and rigorously tested hemp-derived products on the market.
"Industrial hemp has the potential to be a thriving industry in Kentucky and across the U.S. Since the hemp pilot program was introduced in 2014, Ananda Hemp has grown more than 1000 acres of hemp, created numerous local jobs and brought more than $10 million in economic investment into our state," said Brian Furnish, the former chairman of the Kentucky Hemp Commission and an eighth-generation Kentucky farmer.
"I've seen what's happened with the decline of tobacco," adds Furnish. "Central and eastern Kentucky need a new crop. If we can build an industry around hemp here, it'll be beneficial to growers."
Photo Source: Google Images