Global: Uruguay Becomes First Country To Allow Open Cannabis Use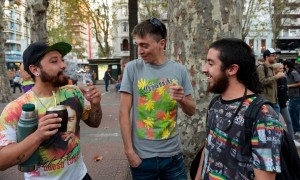 Uruguay has never criminalized personal possession of drugs, and a 1974 law allowed judges to determine whether a given case of possession was personal or commercial
By Michael Bachara
Hemp News
In August 2014, Uruguay legalized the formation of growing clubs, a state-controlled marijuana dispensary regime and created a cannabis regulatory institute. A new law makes the South American country the first in the world to sell the herb over the counter.
There was a gray area in the law where consumption was legal but cultivation was not, so every time a marijuana-grower was taken prisoner it was reinforcing the message that the only place to obtain access to a legal substance was on the illegal market.
"I'm happy because now you can plant without going to prison," says Juan Manuel Varela, the 28-year-old manager of MDAR, one of the cannabis clubs that have been set up under the new legislation. "But like many things in Uruguay, the new law is a good idea that is being applied badly."
According to The Guardian, growers are required to register with the government for a permit that grants them a maximum of six plants, and cannabis clubs will require permits for a maximum of 45 members who are allowed to withdraw only 40g per month from the club's crop.
When the new law goes into full effect in July, legal cannabis will only be available at pharmacies. The price will be accessible, only $1.30 per gram compared with $3 on the street, but consumers must register with the government before purchasing the herb. Consumers will be required to identify themselves with a digital thumb scan to withdraw their weekly maximum of 10g. Only the amount of grams still available from each client's quota will be revealed on the pharmacy's screen.
"The social clubs will continue to grow. The pharmacies have very low quality and people will prefer to go to clubs," Mike Bifari, a long-time cannabis activist, told Hemp News.
Since May, about 3,500 people have signed up to buy marijuana at pharmacies, according to the government's Cannabis Regulation and Control Institute.
Despite the attention, sales are off to a slow start. "Only 30 of the country's 1,000 pharmacies have signed up to sell marijuana so far," says Alejandro Antalich, vice-president of the Uruguayan pharmacies association.
"Our society can be conservative, resistant to change, so there is still uncertainty and many pharmacists are waiting to see how the system works before signing up to sell," Antalich continued. "There is also fear of reprisals against pharmacies from corner drug traffickers upset at losing their clients."
José "Pepe" Mujica, the former-President of Uruguay, introduced a series of liberal reforms during his 2010-2015 term in office.
Photo Source: Getty