Global: Uruguay and Canada Moving Forward on Cannabis Legalization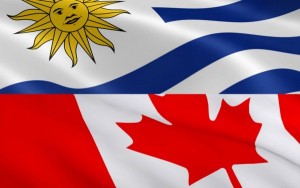 Canada and Uruguay currently honor the 1961 Single Convention on Narcotic Drugs, the 1971 Convention on Psychotropic Substances and the 1988 Convention against Illicit Traffic in Narcotic Drugs and Psychotropic Substances
By Michael Bachara
Hemp News
Uruguay's Ambassador to Ottawa, Martin Vidal, is working with Canada on the implementation of global cannabis regulations. To do so, Canada and Uruguay must comply with three United Nations drug control treaties, since they honor those treaties.
In April, Canadian Prime Minister Justin Trudeau introduced legislation with a goal of legalizing and regulating the use of recreational cannabis by July 2018.
Ambassador Vidal, whose country first passed its cannabis legislation in 2013, has spent several years implementing policy and places a strong emphasis on public health and human rights. Vidal says, "The challenging task has forced Uruguay to put its international credibility on the line," but he insists there have been small signs of movement.
"We see not that the tide is turning, but the international community's allowing this issue to be part of the discussion," Vidal said at Uruguay's embassy in Ottawa.
Uruguay has been working with other countries to accept other ways to approach drug control.
"Some other countries have joined us in this discussion and others in the future – maybe Canada will be one of them – will find that it's not that the path is already clear, but we have facilitated a lot because we worked very hard in the last years to introduce this perspective," said Vidal.
"We are committed to working with our global partners to best promote public health and combat illicit drug trafficking," Alex Lawrence, Director Communications for Global Affairs Canada, wrote in an email, "Canada remains fully compliant with its obligations under the international drug treaties at this time."
Canada has received direct input from Uruguay on cannabis legalization. The countries' have scheduled an upcoming video conference between officials to discuss Canada's legislation.
Photo Source: Google Images