U.S.: Congressman Disputes Anti-Cannabis Organization's 'Lie'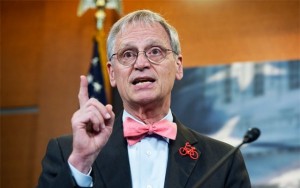 By Michael Bachara
Hemp News
In June, the loudest prohibitionist cheerleader committed to continuing the failed War on Drugs sent out a press statement showing they are continuing to try and roll back progress on cannabis reform.
Kevin Sabet and his organization, SAM (Smart Approaches to Marijuana) falsely claimed that the Rohrabacher-Blumenauer provision prohibiting the Department of Justice from enforcing federal laws against state-legal medical marijuana programs was removed from the Congressional spending bill.
Representative Earl Blumenauer (D-Oregon) recently gave a statement in response to Sabet's claim, "SAM's statement is a lie. Our provision (previously known as the Rohrabacher-Farr amendment, now Rohrabacher-Blumenauer) has NEVER been included in the base text of the legislation. That's why it's called an "amendment." Just like previous years, we will be offering our amendment to continue these critical protections -- and we believe we will get majority support in both the House and Senate."
"We all know that these are challenging times for the cannabis industry. We must not live in fear or give in to personal attacks. That's why I've redoubled my efforts to protect the progress we've made, and build on it," Rep Blumenauer said. "I'm having conversations with my Congressional colleagues on both sides of the aisle, and even with some members of the Trump administration, who have indicated that they do not want to crack down or roll back the gains we have made."
SAM's CEO Kevin Sabet fired back with a release calling Blumenauer and Rohrabacher "two Members of Congress funded by illegal marijuana operations selling pot candies to kids" who "like the fox and the sour grapes… changed their tune once they didn't get what they wanted."
Blumenauer said SAM's analysis of the amendment's status was flawed, in a press release stating, "The folks at SAM clearly don't understand the legislative process. Our amendment has never been in the CJS Subcommittee's bill."