Vermont: Cannabis Regulation Bill Reaches Governor's Desk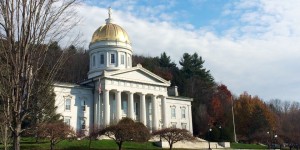 Governor Scott has until Wednesday to sign or veto S. 22, the bill to legalize cannabis in Vermont for adults over 21 before it automatically becomes law
By Michael Bachara
Hemp News
The Vermont Legislature sent its cannabis regulation bill to the desk of Republican Gov. Phil Scott this past Thursday, initiating a five-day countdown during which Scott will have to decide whether to sign the legislation, veto it or allow it to become law without his signature.
If passed, the measure would allow possession of up to an ounce, two mature plants, and four immature plants, starting in July 2018. A commission would develop a proposal to tax and regulate cannabis for the Vermont Legislature to consider next year.
Laura Subin is the director of the Vermont Coalition to Regulate Marijuana, a group that has helped spearhead the legalization push in Montpelier. Subin says early data from Colorado, Washington, and Oregon show no effect between legalization and increased rates among teens.
"There is already a lot of marijuana in Vermont," Subin says. "We know that about 80,000 people are using marijuana."
"In my view, those who oppose the expansion of civil liberties consistently find themselves on the wrong side of history," says Windsor County State's Attorney David Cahill.
Cahill says, "Prohibition has done little to stem the tide of marijuana abuse in Vermont, which has some of the highest teen usage rates in the nation. As for fears about the ill effects of cannabis, "that is a separate issue apart from whether consenting adults should have the right to consume marijuana without fearing state interference."
At a press conference on Thursday, Gov. Scott offered mixed messages on what he plans to do with the legalization bill.
"I've said it along the campaign trail — I'm not philosophically opposed to it," Gov. Scott said. The Governor also stated, "I'm not sure that the time is right now, but I want to look at the bill."
"The fact that Massachusetts and Maine are both moving forward with legalization and expected to have retail stores open next year is part of what's accelerated the conversation in Vermont," says Matt Simon, the New England political director for the Marijuana Policy Project. "People can already hop across the border and get cannabis from friends who grow it; soon they'll be able to buy it in dispensaries. Does it make sense to continue punishing those people? Probably not," Simon stated.
"We would have a far better handle on the use of this product if it were in a legal and regulated system," says Lieutenant Governor David Zuckerman, who's been working on cannabis law reform for 20 years. The lieutenant governor has endorsed the bill.
"I'll tell you with 80 percent confidence he won't sign the bill but let it become law," says Eli Harrington, cannabis advocate and co-founder of Heady Vermont. "Historically, he's much more practical than he is an ideologue. Vetoing the bill would draw negative political attention, as opposed to not signing it and not supporting it, but letting it happen."
According to Public Policy Polling, a March survey of 755 registered voters suggested 57 percent of Vermont voters support legalization. 39 percent are opposed. Meanwhile, the RAND corporation reports that nearly 80,000 Vermonters – roughly 13 percent of the population – use cannabis regularly.
To support S. 22, Contact Governor Scott and ask him to sign the bill into law.
Photo Source: Heady Vermont