Vermont: Governor Says Marijuana Edibles Make For 'Bad Pot Bill' In Massachusetts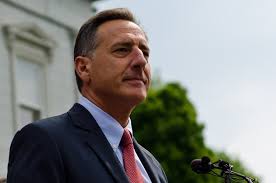 By Derrick Stanley
Hemp News
Governor Peter Shumlin wants to legalize marijuana in Vermont before Massachusetts because he does not want Massachusetts' "bad pot bill" to negatively influence his state.
The governor expressed his views in a blog post entitled The Time is Now to Take a Smarter Approach to Marijuana on his official website.
The bill Shumlin supports would ban edibles, unlike the bill proposed in the Massachusetts ballot initiative, which would permit them for recreational users.
"The bill's approach is in stark contrast to the one proposed in the Massachusetts referendum that will be voted on in November, which would allow edibles that have caused huge problems in other states, smoking lounges, home delivery service, and possession of up to 10 ounces of marijuana. Vermont's bill allows none of that," Shumlin wrote in his post. "If Massachusetts moves forward with their legalization bill while Vermont delays, the entire southern part of our state could end up with all the negatives of a bad pot bill and none of the positives of doing the right thing."
Jim Borghesani, communications director for The Campaign to Regulate Marijuana Like Alcohol, told the State House News Service: "He seems to focus on edibles as a negative and, unfortunately, I think he's falling into the same exaggerations when it comes to edibles that a lot of other people have. The problems with edibles in Colorado were pretty much contained to the first year of legal sales. The packaging has been changed, the portioning has been changed. It's a learning process."
"Over the past few weeks we've seen numerous public officials push out messaging that would have been perfectly recognizable in the hysteria-based dialogue of the 1930s," said Borghesani in a statement. "We have great confidence that Massachusetts voters will reject the cheap theater of neo-reefer madness rhetoric as they weigh the benefits of ending marijuana prohibition."