Vermont: First Ever Vermont Hemp Festival to be Held at Burke Mountain on Sept 9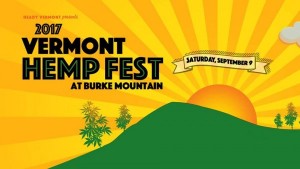 By Michael Bachara
Hemp News
The first-ever Vermont Hemp Festival is planned for Sept. 9 at Burke Mountain Resort in rural, remote Northeast Kingdom. Eli Harrington and Monica Donovan, co-founders of Heady Vermont, chose to have their inaugural hemp conference in the because Northeast Kingdom has hemp history.
Harrington said, "Heady Vermont covers everything from statehouse happenings to artists to investigative reporting and the identities of the individuals who are changing the face of Vermont's cannabis culture."
"We're fortunate in Vermont that we have strong agricultural hemp protections and low barriers to entry," said Heady Vermont Publisher Monica Donovan. "Now that a much larger market is emerging locally, regionally, and nationally, we think it's important to provide resources, information, and practical instructions to as many interested parties as we can."
Heather Darby, an agronomist with the UVM Extension in St. Albans, said the extension is both a sponsor and a collaborator in the Hemp Fest coming to Burke Mountain Resort in a few weeks.
"I've been working on industrial hemp research for two years," said Darby. "Essentially, the 2014 Farm Bill allowed research institutions to research industrial hemp and marketing and production opportunities for the U.S., so we could legally conduct research and look at the opportunities for industrial hemp as a crop for farmers in the U.S."
Darby said, "I've been very interested in figuring out if the crop can actually be grown here and what are the opportunities for farmers, so that's my role." She said connections with local and regional businesses which would be interested in buying Vermont hemp have been developed, "That's our angle, and so we're looking primarily at fiber and seed. Our role at the conference is to help farmers and others understand the industry of agronomics and production techniques that are used to grow this crop and what are the potential yields and uses."
Kyle Gruter-Curham, founder of Creek Valley Cannabidio in Irasburg graduated from Sterling College in 2009 with a degree in Conservation Ecology, and while teaching at the Laraway School in Johnson, began growing his own food to become sustainable. Gruter-Curham said, "During the summer of 2016 I grew out 1,000 plants on one acre … At this time we were also testing a few varieties to see what would do the best in Vermont. Our first crop was successful, but was mostly for medicine for family and friends."
Sponsors of the festival include the University of Vermont Agricultural Extension, Ceres Natural Remedies, the Vermont Hemp Company, Humble Roots Horticulture and the PhytoScience Institute.
Photo Source: Google Images