United States: Veterans Affairs Secretary Shulkin: "We're Interested In Looking At Medical Marijuana For Vets"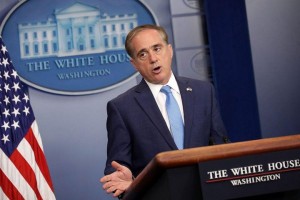 "If there is compelling evidence that this is helpful, I hope that people take a look at that and come up with the right decision." Veterans Affairs Secretary David Shulkin
By Michael Bachara
Hemp News
Veterans Affairs Secretary David Shulkin said Wednesday he's open to expanding the use of medical cannabis to help service members suffering from post-traumatic stress disorder (PTSD), but cited the VA is limited by strict federal law.
In the United States, it is estimated that 22 veterans take their lives each day. "That should be unacceptable to all of us," Shulkin said.
"There may be some evidence that this is beginning to be helpful and we're interested in looking at that and learning from that," Shulkin said about the medical use of the drug for veterans with Post-Traumatic Stress Disorder in states with medical cannabis laws.
VA doctors are barred from prescribing medical cannabis to patients under current policy, but last year Congress passed a measure allowing a doctor to discuss the option with patients, if in a state where it was legal.
Shulkin's suggestion that the VA look into studying cannabis is a sharp contradiction in tone from others in the Trump administration.
Attorney General Jeff Sessions, an opponent to all cannabis use, saying applications for medical marijuana have been "hyped, maybe too much," and saying he's "dubious" about its use. Sessions has made clear that he still believes that "good people don't smoke marijuana."
In a disheartening statement on the VA website on cannabis as an option to ease PTSD, Marcel O. Bonn-Miller, Ph.D. and Glenna S. Rousseau, Ph.D., "The belief that marijuana can be used to treat PTSD is limited to anecdotal reports from individuals with PTSD who say that the drug helps with their symptoms. There have been no randomized controlled trials, a necessary "gold standard" for determining efficacy."
In contrast, according to the late Dr. Phil Leveque, Professor of Pharmacology, "Psychotherapy...possibly works for the lower grades of PTSD. For the more extreme cases, pharmacotherapy, especially with cannabis/marijuana type drugs, has been found to be the best and many PTSD Veterans have discovered this."
Shulkin believes that everything that could help veterans should be debated by Congress and by medical experts. He will implement that law.
Nearly two and a half million members of the American Legion are calling on the Trump administration to instruct the Drug Enforcement Agency to change how it classifies cannabis. Many Afghanistan and Iraq veterans have contacted the American Legion to relay their personal stories about the efficacy of cannabis, for a variety of physical and emotional maladies.
Please contact the VA and plead them to support medical cannabis as a viable option for suffering veterans.
Photo Source: Chip Somodevilla/Getty Images