Virginia: VSU to Host Industrial Hemp Field Day on August 17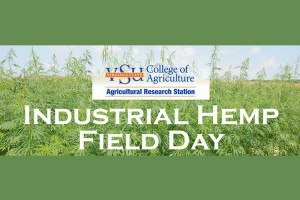 By Michael Bachara
Hemp News
A first-of-its kind industrial hemp field day at Virginia State University (VSU) will provide a forum for potential growers, researchers, marketing experts and hemp product users to discuss the future of the crop in Virginia and neighboring states.
The event, which is scheduled for Thursday, Aug 17 from 8am-3pm at VSU's Randolph Farm located at 4415 River Road in Petersburg, VA, will showcase an industry overview, discuss markets for industrial hemp products, industrial hemp research at VSU, and an industrial hemp plot tour.
As a result of the passage of the 2014 Farm Bill Section 7606 by the U.S. Congress and the subsequent enactment of the Industrial Hemp Law by Virginia General Assembly in 2015, VSU is one of the higher learning institutions authorized to conduct industrial hemp research in the Commonwealth of Virginia.
In 2016, VSU began conducting field research on industrial hemp. University researchers are currently evaluating industrial hemp varieties for seed, seed oil, and biofuel production adaptable to Virginia's climate. Researchers are also studying optimum planting dates and fertilizer needs for maximum industrial hemp seed and fiber yields.
The field trials are significant in evaluating the potential growth of industrial hemp in different parts of the state. The decision to grow industrial hemp for its stalk, seed, or both is influenced by the type and location of processing facilities.
Industrial hemp can be used to produce biofuel, auto parts, paper, upholstery, fiber for cloth and other textile items, building materials, industrial products and different types of papers, according to VSU.
Photo Source: Google Images, VSU