Washington, DC: Marijuana Advocates Plan To Get Arrested Smoking Pot Outside The White House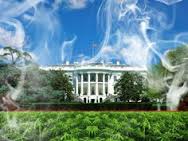 By Derrick Stanley
Hemp News
This Saturday, organizers of the ballot measure that legalized marijuana in the District plan to host the first large-scale display of pot smoking in the nation's capital. Their plans are to get arrested just outside the White House.
Artists Chris Ridler and Cesar Maxit are constructing an inflatable, 51-foot joint for protestors to carry onto Pennsylvania Ave. They are trying to devise a way to place a fan inside to disperse marijuana smoke into the crowd. If that doesn't work, thay may zip people up in the balloon that want to get high, they said.
Chief organizer of the event Adam Eidinger predicts " dozens, if not hundreds, engaged in civil disobedience" smoking pot this Saturday outside 1600 Pennsylvania Ave.
"Obama — he smokes, maybe not now, but he did smoke," Eidinger said. "So for him to oversee an enforcement regime that has arrested 5 million people for marijuana? I'm very motivated because I think it's a discriminatory practice."
Eidinger supports Bernie Sanders in the Democratic presidential contest; Sanders wants recreational use of marijuana legalized. But Eidinger wants Obama to begin the process of rescheduling marijuana before he leaves office because he thinks it would provide political cover for the probable Democratic nominee, Hillary Clinton, to finish the job should she win the presidency in November.
"If Obama really wants to help Hillary, he'll do this — because people like me, who are strong Bernie supporters, we would feel more comfortable supporting the Democratic candidate if this is underway," Eidinger said.
Not all marijuana advocates agree with Eidinger's plan to smoke pot outside the White House Saturday.
Kaitlyn Boecker, a spokeswoman for the Drug Policy Alliance said, "We're not involved, and we don't think that consuming marijuana on federal property is an appropriate way to promote reform."
"Smoking marijuana outside the president's house, around tourists and kids, is probably not a good way to get the president to do what you want," said Tom Angell, head of the Marijuana Majority, a group promoting greater marijuana acceptance.
The event is planned for the plaza adjacent to the White House, which is policed by the U.S. Secret Service.
"As a former cannabis (and current?) user, you know firsthand that cannabis does not belong in the Controlled Substances Act," Eidinger wrote. He called for Obama to agree to a "Bud Summit, where leaders of the cannabis reform movement are invited to the White House to discuss steps you can take to end the failed War on Drugs you inherited as president."
The White House press office did not respond to inquiries about Eidinger's letter.