Washington: Governor Inslee Gives Statement on AG Sessions' Reefer Madness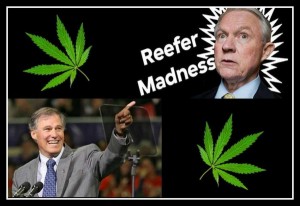 By Michael Bachara
Hemp News
On July 24, U.S. Attorney General Jeff Sessions reiterated that "Congress has determined that marijuana is a dangerous drug and that the illegal distribution and sale of marijuana is a crime." The AG singled out Washington state and said it was not following the law and fueling a war.
Sessions' letter draws exclusively on the report by the High-Intensity Drug Trafficking Area (HIDTA) program, a drug-prohibition enforcement program out of the US Office of National Drug Control. In the letter's first bullet it states, "The medical market for (for marijuana) is considered 'grey' due to the lack of regulation and oversight and furthermore, aspects of Washington's regulatory structure for the 'medical market' have unintentionally led to the growth of the black market enterprises."
The truth is that Sessions' information pre-dates Washington state's 2015 Cannabis Patient Protection Act (referring to incomplete and unreliable data that does not provide the most accurate snapshot of efforts since the Washington marketplace opened in 2014) bringing the medical marijuana market under the same robust regulatory system as recreational marijuana. Washington's Liquor and Cannabis Board has verified all unlicensed storefronts were closed July 1, 2016.
AG Sessions' letter also states, "In 2014 alone, 17 THC extraction labs exploded," when the reality is that in three years of legalization, no licensed extraction business has exploded. The incidents referred to in Sessions' letter were black or gray market facilities, often using butane in an enclosed space rather than a licensed lab.
Gov. Inslee defended his state and said, "Washington state has been a groundbreaking leader when it comes to implementing a whole new marketplace for recreational marijuana. I am incredibly proud of the work we've done to implement legalization in a way that keeps youth safe, minimizes diversion into the black market, and minimizes diversion of product out of state."
"We are learning important lessons as we go and continually looking for ways to improve our work on all fronts. It is important for our state to know the Trump Administration is willing to work with us to ensure our success on these efforts, rather than undermining our efforts and diminishing our ability to work constructively with growers and distributors," Gov. Inslee continued.
Gov. Inslee added, "While Washington has been successful in creating a tightly regulated market place and generating needed revenue for the state, challenges do remain. Most importantly marijuana remains a Schedule 1 controlled substance by the federal government. This determination affects all aspects of our state systems, from banking to research to consumer safety."
"It is clear that our goals regarding health and safety are in step with the goals Attorney General Sessions has articulated. Our team is currently reviewing his letter, and we will have a more detailed response in the coming days. I look forward to speaking with Attorney General Sessions to make sure he fully understands everything our state is doing to accomplish our shared goals," Gov. Inslee concluded.
Photo Source: Google Images