Washington: Historic Industrial Hemp Crop Planted In Moses Lake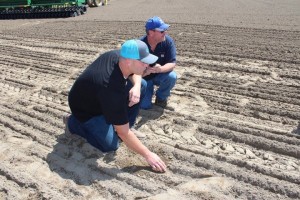 By Michael Bachara
Hemp News
Last year, the Washington Legislature voted to permit industrial hemp. Today in Moses Lake, industrial hemp seeds were planted. This historic event, which was presented by the Washington Hemp Industries Association and sponsored by HempLogic USA and Hemp Ace International, celebrated the first legal planting of the versatile, valuable industrial hemp crop in Washington State in approximately 90 years.
The commemoration featured agronomic and regulatory guidance from experts, hemp industry leaders and the Washington State Department of Agriculture.
At the moment, seven organizations and the Colville tribe have applied to the Washington State Department of Agriculture to grow industrial hemp. To date, the agency has approved three licenses.
Joy Beckerman of Hemp Ace International foresees great potential in the industrial hemp market, which has been flourishing in Canada since 1998, under licenses and authorization, issued by Health Canada.
"What we're probably going to see in the beginning—like Canada—is seed processing because that infrastructure exists," Beckerman said. "Of course, it needs to grow."
"Trying to get investors interested in investing in infrastructure for which there is no crop, this is a challenging thing," Beckerman said in an interview. "We're putting one foot in front of the other here and it is the farmers who are going to be the heroes here."
The new rules by the state Washington State Department of Agriculture establish a minimum distance of four miles between an industrial hemp field and the nearest licensed indoor or outdoor cannabis grow operation.
Hemp has been cultivated for over 10,000 years and has been an important source of food and fiber dating back to ancient China and Mesopotamia.
Photo Source: HempLogic